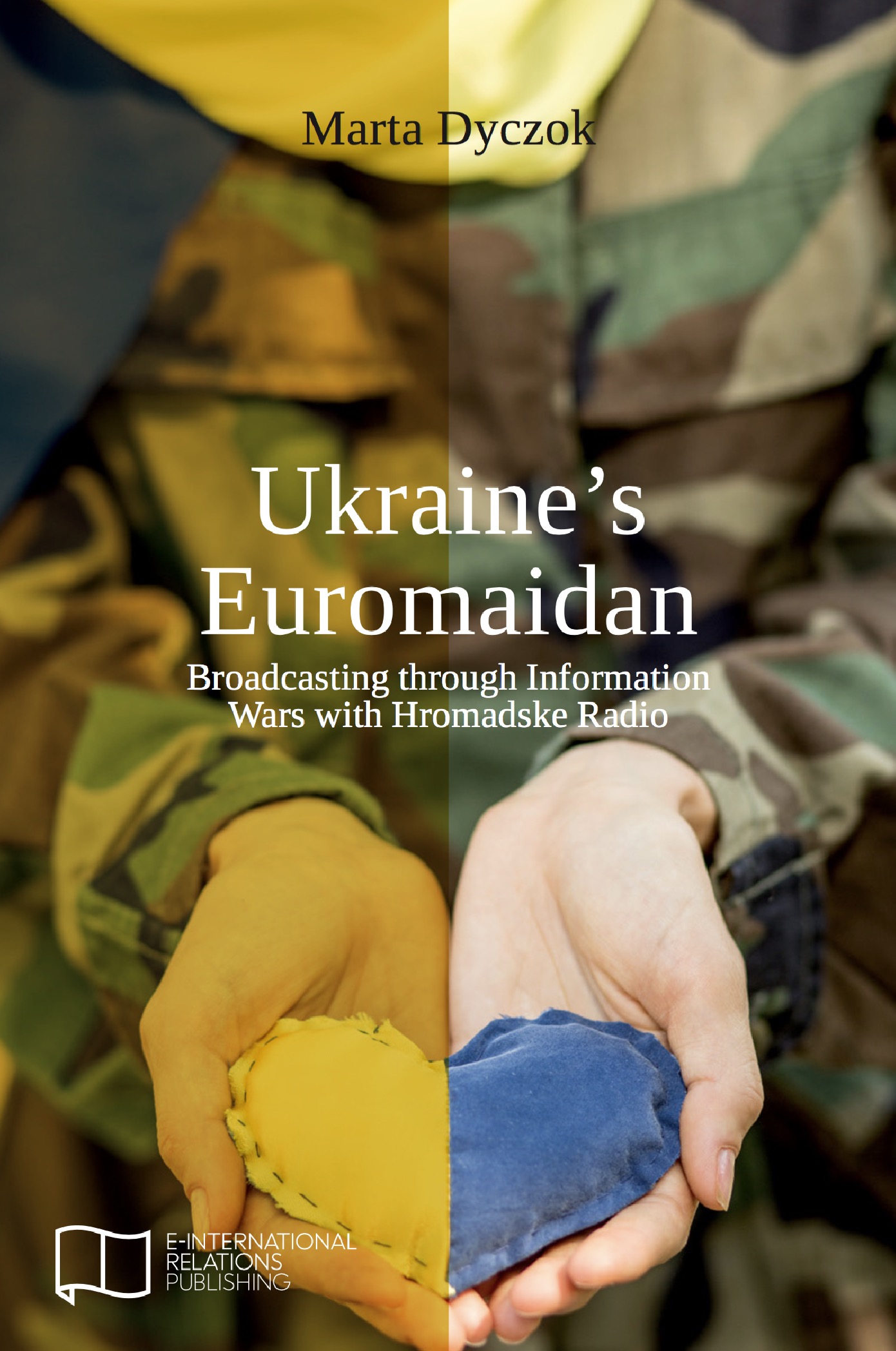 Ukraine's Euromaidan: Broadcasting through Information Wars with Hromadske Radio
by Marta Dyczok
Available now on Amazon (UK, USA, Ca, Ger, Fra), in all good book stores, and via a free PDF download. Find out more about E-IR's range of open access books here
How can you counteract an information war? Hromadske Radio, Public Radio Ukraine, decided to provide accurate and objective information to audiences – free of state and corporate censorship and any kind of manipulation. They broadcasted throughout Ukraine's Euromaidan, and beyond.
This book brings together a series of English language reports on the Ukraine crisis first broadcast on Hromadske Radio between 3 February 2014 and 7 August 2015. Collected and transcribed here, they offer a kaleidoscopic chronicle of events in Ukraine.
Bookending the reports, purpose written introduction and conclusion sections contextualize the independent radio project within the larger picture of Ukraine's media and political developments – both before the Euromaidan and in its dramatic aftermath. The book also features a preface by David R. Marples.
About the author
Marta Dyczok is Associate Professor at the Departments of History and Political Science, Western University, Fellow at the University of Toronto's Munk School of Global Affairs, and Adjunct Professor at the National University of the Kyiv Mohyla Academy.
Reviews
"Broadcasting history as it happens is the task that few journalists or historians can accomplish, unless they are at home in both professions and have an intimate knowledge not only of the scene they report on but also of the audience they talk to. Marta Dyczok brings all these qualities together in her radio reportages from Canada and Ukraine on the Euromaidan protests. Short, always to the point and easy to read, the reports demonstrate with unique clarity the global nature of today's politics and the power of the people on the street to change the course of history."
– Serhii Plokhy, Harvard University, Chair of Ukrainian History, author of The Gates of Europe: A History of Ukraine
"Marta Dyczok's ongoing research into how the control of media shaped political narratives in Ukraine has given her the qualifications and context to provide a rich commentary on the Euromaidan. Thus, this volume is an excellent example of how social science research can have direct relevance to current events. As the Research Dean of her Faculty during these years, I am proud to recognize Dyczok's engaged scholarship and to acknowledge her contributions in both the academic and public arenas."
– Andrew Nelson, Anthropology Department, University of Western Ontario
"The collection of reports in this book is an excellent contribution to the understanding of the events which followed one another in hectic succession from autumn 2013 to summer 2015. The reports written by Marta Dyczok for Hromadske Radio, the first truly independent radio in Ukraine during the last 3 years, give the reader a lively idea of the the dramatic facts and the discussions inside Ukraine, but also show the very different reactions in the countries which watched at the events from outside and tried to follow them. The reports are written in sober style, they privilege facts and description of the most significant events, but testify at the same time of the passion and professionalism the author puts in her work. Elegance and a subtle touch of irony make these reports an interesting reading for anybody interested in Ukrainian history and culture."
– Giovanna Brogi, Former Professor of Slavic Studies, University of Milan. President of the Italian Association of Ukrainian Studies