E-IR Foundations are a series of beginner's textbooks that are designed to introduce complicated issues in a practical and accessible way. Each book will cover a different area connected to International Relations.
OPEN ACCESS
Each book will be available to buy in stores worldwide – from Amazon right down to local booksellers – and be priced affordably. However, uniquely for textbooks, each book will be freely accessible on a students portal on E-International Relations and also be freely downloadable in an ebook format. So, readers can have each book at their fingertips and on all their devices without any restrictions or hassle. E-IR is developing our Foundations series as part of our mission to provide the best source of freely available scholarly materials for students of International Relations.
DESIGNED FOR STUDENTS
Typically, textbook publishing is designed to appeal to professors/lecturers and, therefore, the books (even introductory books) aren't designed specifically as an aid to the student, so much as designed as an aid to the instructor to 'cover the bases' for use in the classroom. Our books are focused on the needs of the student. Each book is designed to take readers from no prior knowledge to competency. The books are designed to be read as a companion, rather than a replacement, to other texts – offering readers a fresh perspective, designed with them in mind.
ACCESSIBLE AND READABLE
Each book will be broken down into self-contained chapters, written by established or up and coming experts, that will unpack the issue at hand via an engaging narrative. Each chapter will be presented without jargon or excessive references in order to directly and effectively communicate the issues to the beginner. Any and all terms that are necessary for inclusion (because they are foundational concepts) will be defined within the text and explained carefully.
PROPOSALS
We are open to enquiries from scholars who wish to suggest a new title to add to the E-IR Foundations series. If you would like to make such a suggestion, and perhaps edit the volume, we have no specific format we would like to receive your proposal in – but emailing us at info@e-ir.info with your idea and attaching a CV would be a good start. Then, we will discuss further with you.
---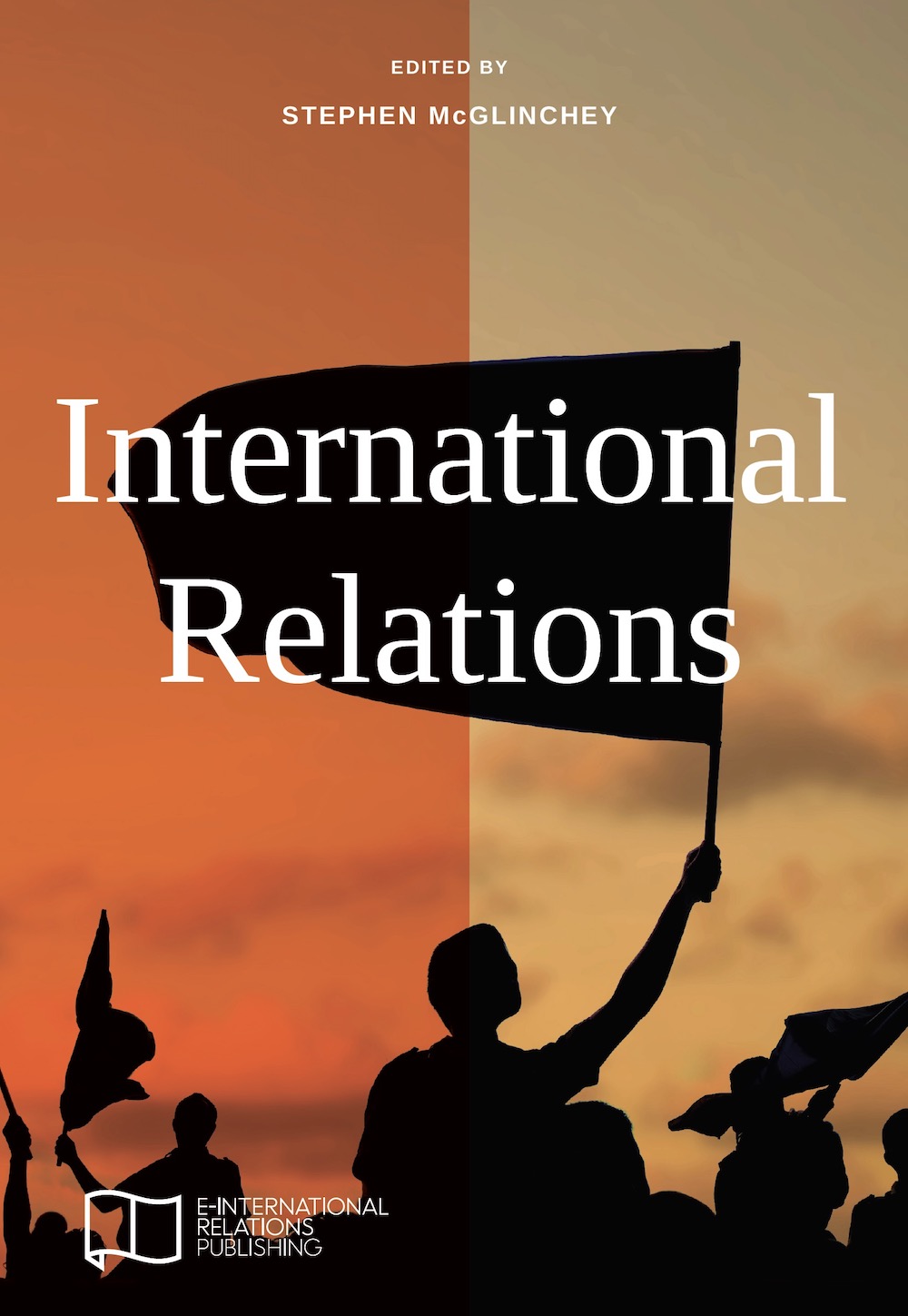 International Relations is available now on Amazon (UK, USA, Ca, Ger, Fra), in all good book stores, and via a free PDF download. Find out more about E-IR's range of open access books here.
A 'Day 0' introduction to International Relations. As a beginner's guide, it has been structured to condense the most important information into the smallest space and present that information in the most accessible way.
Written by a range of emerging and established experts, the chapters offer a broad sweep of the basic components of International Relations and the key contemporary issues that concern the discipline. The narrative arc forms a complete circle, taking readers from no knowledge to competency. The journey starts by examining how the international system was formed and ends by reflecting that International Relations is always adapting to events and is therefore a never-ending journey of discovery.
This book, like others in the E-IR Foundations series, is designed to capture attention with an engaging narrative. The chapters are short, with simple paragraphs and clear sentences placing the reader inside crucial issues and debates so they can understand how things work, and where they fit in the world around them.
Chapter outline:
GETTING STARTED – (Stephen McGlinchey)
PART ONE – THE BASICS
THE MAKING OF THE MODERN WORLD (Erik Ringmar)
DIPLOMACY (Stephen McGlinchey)
ONE WORLD, MANY ACTORS (Carmen Gebhard)
INTERNATIONAL RELATIONS THEORY (Dana Gold & Stephen McGlinchey)
INTERNATIONAL LAW (Knut Traisbach)
INTERNATIONAL ORGANISATIONS (Shazelina Z. Abidin)
GLOBAL CIVIL SOCIETY (Raffaele Marchetti)
GLOBAL POLITICAL ECONOMY (Günter Walzenbach)
RELIGION AND CULTURE (John A. Rees)
PART TWO – GLOBAL ISSUES
GLOBAL POVERTY AND WEALTH (James Arvanitakis & David J. Hornsby)
PROTECTING PEOPLE (Alex J. Bellamy)
CONNECTIVITY, COMMUNICATIONS AND TECHNOLOGY (Andreas Haggman)
VOICES OF THE PEOPLE (Jeffrey Haynes)
TRANSNATIONAL TERRORISM (Katherine E. Brown)
THE ENVIRONMENT (Raul Pacheco-Vega)
FEEDING THE WORLD (Ben Richardson)
MANAGING GLOBAL SECURITY BEYOND 'PAX AMERICANA' (Harvey M. Sapolsky)
CROSSINGS AND CANDLES (Peter Vale)
Reviews
In today's volatile and fast moving world, it is important to understand how things really work on the global stage. This book brings together scholars and practitioners from around the world to explain key issues, concepts and dynamics from a variety of perspectives in clear and accessible language. An invaluable and interesting read for anyone who wants to learn the basics of international relations.
– Marta Dyczok. Associate Professor, Departments of History and Political Science, University of Western Ontario.
With the turbulence all around us, everyone is affected by what happens elsewhere and no one can afford not to understand international relations. This is an essential guide to learning how to navigate our interconnected world.
– Mukesh Kapila, CBE. Professor of Global Health & Humanitarian Affairs, University of Manchester.
A succinct guide to International Relations that will be an ideal introduction for high school students and junior undergraduates.
– David R. Marples. Chair, Department of History & Classics, University of Alberta.
A thoughtful, well-written, intelligently presented and engaging narrative introduction to international relations.
– Richard Ned Lebow. Professor of International Political Theory, Department of War Studies, King's College London.
A concise and comprehensive introduction to the study of international affairs. Adopting a student-centred approach and using strong examples, this book is essential for promoting understanding about international relations.
– Yannis Stivachtis. Associate Chair, Department of Political Science, and International Studies Program Director, Virginia Tech.
---
Coming soon, International Relations Theory: A Practical Introduction, edited by Stephen McGlinchey, Rosie Walters and Christian Scheinpflug.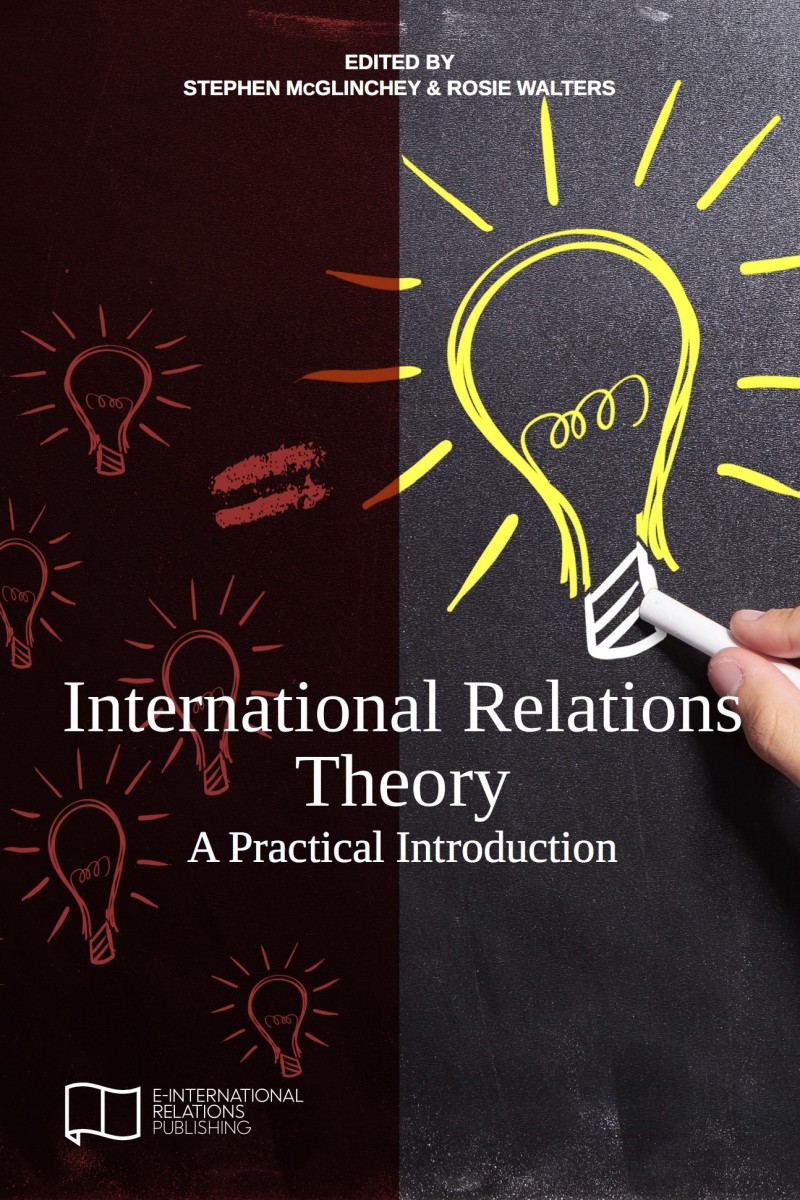 Books on International Relations theories tend to be overwhelming to beginners. For this reason, this book will provide a foundation upon which to build and act as a guide that students can dip in and out of when they want to get back to basics. Each stand-alone chapter will provide readers with the basic introduction they need to understand a theory, a practical example or case study to demonstrate how that theory yields insights, and plenty of inspiration and information to find out more. This format will help to create a lively, readable and relevant guide that will help new students to see not only what theories are, but why they matter. While the first section of the book will focus on more established theories, an 'Expansion Pack' of other theories and perspectives explores the diversity of IR theory, its controversies, and its continuing evolution.
Chapter outline:
Introduction: 'WHY THEORIES MATTER'
Stephen McGlinchey (UWE Bristol, UK) & Rosie Walters (Bristol, UK)
PART 1: 'ESTABLISHED THEORIES'
REALISM – Richard Ned Lebow (KCL, UK) & Felix Rösch (Coventry, UK)

LIBERALISM – Jeffrey Meiser (Portland, USA)


ENGLISH SCHOOL – Yannis A. Stivachtis (Virginia Tech, USA)

CONSTRUCTIVISM – Sarina Theys (Newcastle, UK)

MARXISM – Maia Pal (Oxford Brookes, UK)

CRITICAL THEORY – Marcos Farias Ferreira (Lisbon, Portugal)

POSTSTRUCTURALISM – Aishling Mc Morrow (Queen's, UK)

FEMINISM – Sarah Smith (Victoria, Australia)

POSTCOLONIALISM – Sheila Nair (Northern Arizona, USA)

THEORY IN THE 21ST CENTURY: TOWARDS A GLOBAL IR? – Amitav Acharya (American University, USA)
PART 2: 'EXPANSION PACK'
GREEN THEORY – Hugh Dyer (Leeds, UK)

QUEER THEORY – Markus Thiel (Florida International, USA)

GLOBAL JUSTICE – Alix Dietzel (Bristol, UK)

CRITICAL GEOGRAPHY – Irena L. C. Connon (Dundee, UK) &

Archie

W. Simpson (Bath, UK)

SECURITIZATION THEORY – Clara Eroukhmanoff (St Andrews, UK)

ASIAN PERSPECTIVES – Pichamon Yeophantong (UNSW, Australia)

GLOBAL SOUTH PERSPECTIVES – Lina Benabdallah (Florida, USA) , Victor Adetula (Jos, Nigeria) &

Carlos

Murillo-Zamora (National University of Costa Rica)


INDIGENOUS PERSPECTIVES – Marc Woons (KU Leuven, Belgium) & Jeff Corntassel (Victoria, Canada)

CONTEMPORARY REALIST PERSPECTIVES  – Felix Rösch (Coventry UK) & Richard Ned Lebow (King's UK)

PUTTING IR THEORY IN PERSPECTIVE –

Alex Prichard (Exeter, UK)
---
To see what book we have coming next, stay tuned!