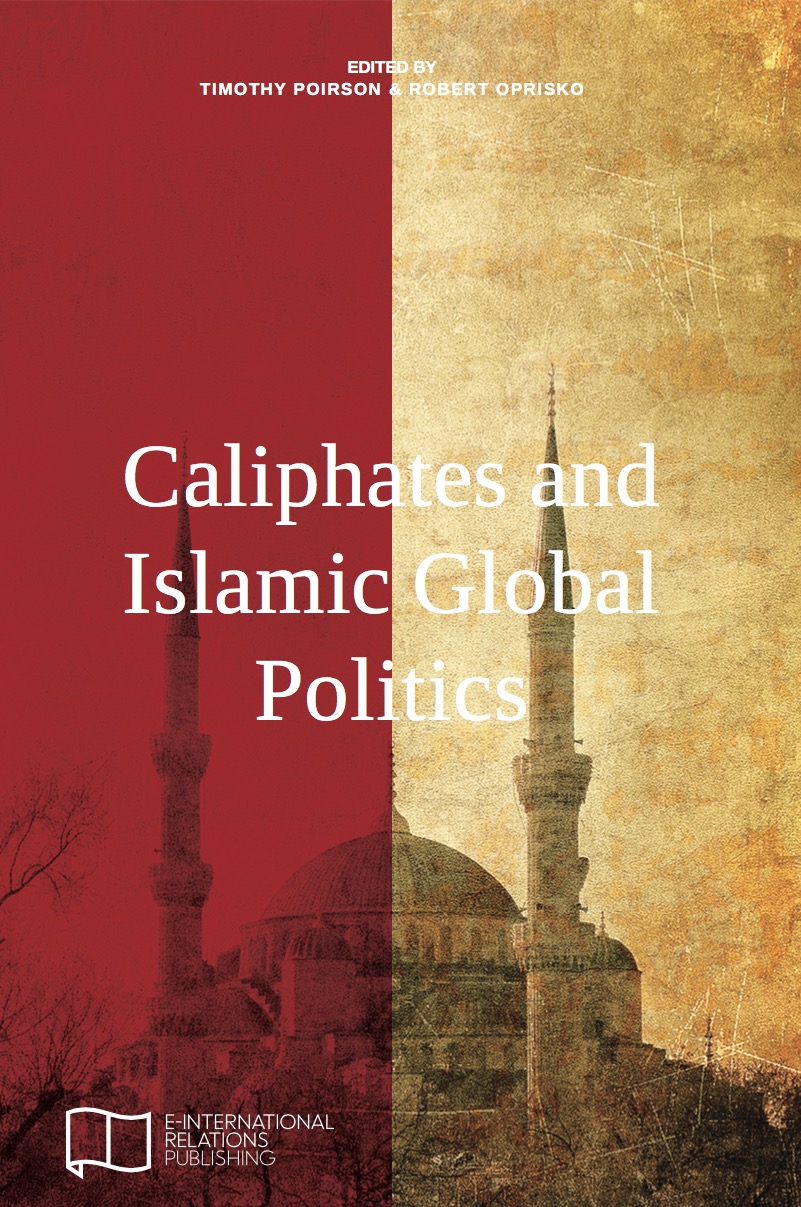 Caliphates and Islamic Global Politics – an E-IR Edited Collection. Edited by Timothy Poirson and Robert L. Oprisko.

Available now on Amazon (UK, USA) in all good book stores, and via a free PDF download.

Find out more about E-IR's range of open access books here.

The events of the Arab Spring, beginning in December 2010, saw renewed hope for Arab Civil Society. However, the fall of authoritarian regimes did not always seem to benefit Civil Society – whilst Political Islamic movements often took advantage. In Syria, Iraq, and beyond, groups like the Islamic State are declaring Caliphates in the territories they seize in an attempt to fulfil the Political Islam ideal of a 'global Islamic Caliphate' encompassing the Muslim world.
This collection of articles aims to address common questions about Political Islam, as well as to provide an assessment of the Islamic State/ISIS/ISIL and finally challenge common understandings on the issue of Islam and democracy.
—
TABLE OF CONTENTS
INTRODUCTION
Timothy Poirson
1. ISLAMIC STATE, THE ARAB SPRING, AND THE DISENCHANTMENT WITH POLITICAL ISLAM
Maximilian Lakitsch
2. IMAMATE AND CALIPHATE: ISLAMIC GOVERNANCE THEORY IN MOROCCAN ISLAMIST DISCOURSE
Juan A. Macías-Amoretti
3. LEGAL PLURALISM AND SHARIA: IMPLEMENTING ISLAMIC LAW IN STATES AND SOCIETIES
Adel Elsayed Sparr
4. COMPARING GOALS AND ASPIRATIONS OF NATIONAL VS. TRANSNATIONAL ISLAMIST MOVEMENTS
Joseph Kaminski
5. THE ISLAMIC STATE AND THE ARAB TRIBES IN EASTERN SYRIA
Haian Dukhan and Sinan Hawat
6. BEYOND ARMS AND BEARDS: LOCAL GOVERNANCE OF
ISIS IN SYRIA
Rana Khalaf
7. THE ISLAMIC STATE AND ITS VIABILITY
Mohammed Nuruzzaman
8. WHAT IS ISLAMIC DEMOCRACY? THE THREE CS OF ISLAMIC GOVERNANCE
M. A. Muqtedar Khan
---
**Update (September 2015)**
The first print run of Caliphates and Islamic Global Politics sold out – we apologise to those who were unable to order a print copy in July and August. A new pressing is now avaialble with some minor alterations and improvements. For the second printing we have updated the e-book and ISBN as the page numbers/sequence is slightly different from the original. And, we are pleased to announce that the title is being translated into Arabic for 2016/17.