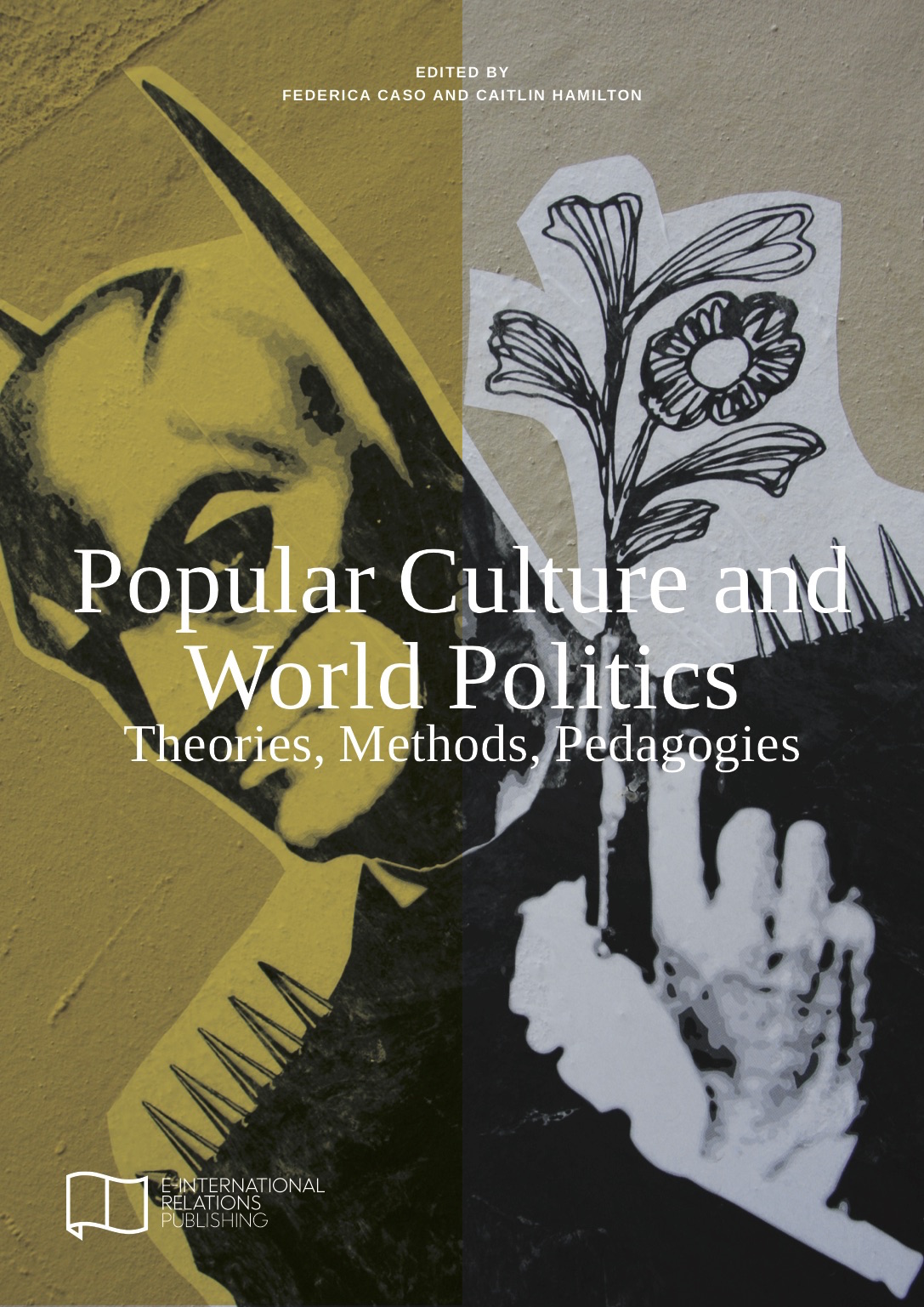 'Popular Culture and World Politics: Theories, Methods, Pedagogies' an Edited Collection from E-International Relations. Available now on Amazon (UK, USA) and in all other good book stores, and via a free PDF download.
Find out more about E-IR's range of open access books here.
Edited by: Federica Caso and Caitlin Hamilton
This edited collection brings together cutting edge insights from a range of key thinkers working in the area of popular culture and world politics (PCWP). Offering a holistic approach to this exciting field of research, it contributes to the establishment of PCWP as a sub-discipline of International Relations.
The volume opens with some theoretical considerations that ground popular culture in world politics. It then looks at different sources of popular culture and world politics, along with some of the methods we can use to study them. It concludes with a discussion about some of the implications of bringing popular culture into the classroom.
Canvassing issues such as geopolitics, political identities, the War on Terror and political communication, and drawing from sources such as film, videogames, art and music, this collection is an invaluable reader for anyone interested in popular culture and world politics.
—
TABLE OF CONTENTS
PART ONE: Popular Culture and World Politics: In Theory and In Practice
So, How Does Popular Culture Relate to World Politics? (Jutta Weldes and Christina Rowley)
Popular Culture and Political Identity (Constance Duncombe and Roland Bleiker)
On Captain America and 'Doing' Popular Culture in the Social Sciences (Jason Dittmer)
Popular Geopolitics and the 'War on Terror' (Klaus Dodds)
The Hidden Politics of Militarization and Pop Culture as Political Communication (Linda Åhäll)
PART TWO: Sources and Methods of Popular Culture and World Politics
Worlds of Our Making in Science Fiction and International Relations (Nicholas J. Kiersey and Iver B. Neumann)
Film and World Politics (Michael J. Shapiro)
Videogames and IR: Playing at Method? (Nick Robinson)
Milltary Videogames, Geopolitics and Methods (Daniel Bos)
Collage: An Art-inspired Methodology for Studying Laughter in World Politics (Saara Särmä)
What Does (the Study of) World Politics Sound Like? (Matt Davies and M.I. Franklin)
PART THREE: Teaching Popular Culture and World Politics
Imperial Imaginaries: Employing Science Fiction to Talk About Geopolitics (Robert A. Saunders)
The Challenges of Teaching Popular Culture and World Politics (Kyle Grayson)
Pedagogy and Pop Culture: Pop Culture as Teaching Tool and Assessment Practice (William Clapton)