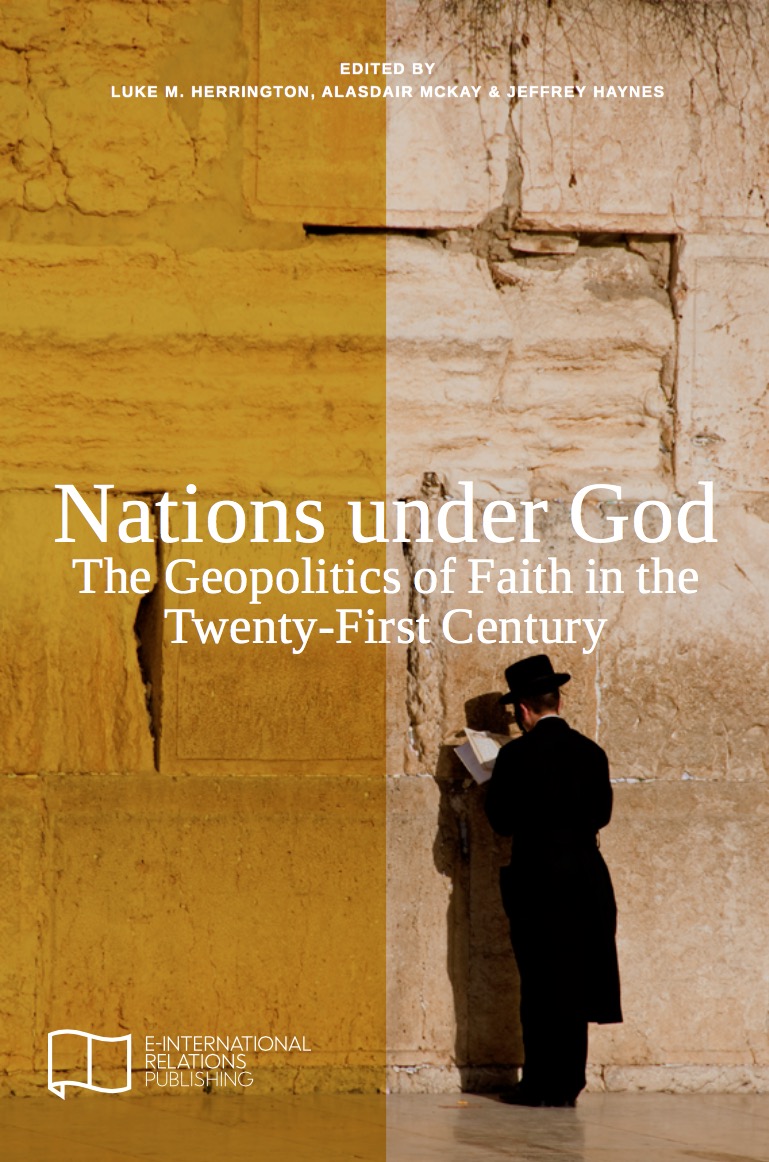 Nations under God: The Geopolitics of Faith in the Twenty-First Century –
an E-IR Edited Collection. Edited by Luke M. Herrington, Alasdair McKay & Jeffrey Haynes

Available now on Amazon (UK, USA), in all good book stores, and via a free PDF download.

Find out more about E-IR's range of open access books here.
This edited collection presents a balanced analysis of the multifaceted roles taken on by religions, and religious actors, in global politics. The volume brings together over thirty leading scholars from a variety of disciplines such as political science, IR theory, sociology, theology, anthropology, and geography.
Utilising case studies, empirical investigations, and theoretical examinations, this book focuses on the complex roles that religions play in world affairs. It seeks to move beyond the simplistic narratives and overly impassioned polemics which swamp the discourse on the subject in the media, on the internet, and in popular nonfiction.
 —
TABLE OF CONTENTS
INTRODUCTION
Luke M. Herrington and Alasdair McKay
PART ONE – UNDERSTANDING RELIGION(S) IN THE WORLD TODAY
THE RELIGIOUS RESURGENCE: PROBLEMS AND OPPORTUNITIES FOR INTERNATIONAL RELATIONS THEORY
Stephen Dawson
'LITTLE DO THEY KNOW…' HOW (NOT) TO THEORISE RELIGION AND INTERNATIONAL RELATIONS
Jodok Troy
SHIFTING TERRITORIAL ORDERS AND RELIGION
Gertjan Dijkink
THE FOUR RELIGIONS OF FOREIGN POLICY
John A. Rees
LOOKING BACK TO SEE FORWARD: ROMANTICISM, RELIGION AND THE SECULAR IN MODERNITY
Mark S. Cladis
THE CONTEMPORARY AMBIGUITIES OF RELIGIONS AS A SOURCE OF CIVILISATIONAL IDENTITY
Fabio Petito

PART TWO – THE NATION-STATE AND SOCIETY
RELIGION'S CHANGING FORM AND RELATION TO THE STATE SINCE 1989
Linda Woodhead
THE SECULAR–RELIGIOUS COMPETITION PERSPECTIVE
Jonathan Fox
CHURCH, STATE AND CULTURE: SHOULD RELIGION BE A PRIVATE MATTER?
Brendan Sweetman
HOLISM, RELIGION AND GEOPOLITICS
Don Handelman
RELIGIOUS POLITICS AND THE RISE OF ILLIBERAL RELIGION
Scott W. Hibbard
ASSESSING STATE AND RELIGIOUS INSTITUTIONS: A COMMENT FROM THE CASE OF ANGOLA
Ruy Llera Blanes
THE GEOPOLITICS OF RELIGIOUS PERFORMANCE IN TWENTY-FIRST CENTURY TAIWAN
Fang-long Shih
MORE RUSSIAN THAN ORTHODOX CHRISTIANITY: RUSSIAN PAGANISM AS NATIONALIST POLITICS
Kaarina Aitamurto
PART THREE – VIOLENCE AND PEACE
SOCIOTHEOLOGY: THE SIGNIFICANCE OF RELIGIOUS WORLDVIEWS
Mona Kanwal Sheikh
WHAT'S GOD GOT TO DO WITH IT? VIOLENCE, HOSTILITY AND RELIGION TODAY
Lee Marsden
THE FUTURE OF ISLAMIC STATE SYSTEMS IN LIGHT OF RISING SECTARIAN TENSIONS
Shireen T. Hunter
THE GEOPOLITICS OF RELIGIOUS LIBERTY
Nilay Saiya
IS THERE A RELIGIOUS DIVERSITY PEACE DIVIDEND?
Dan G. Cox
INTER-RELIGIOUS WORK FOR PEACE THROUGH GLOBALISED TRANSNATIONAL CIVIL SOCIETY
Pauline Kollontai
PART FOUR – HUMAN RIGHTS AND INSTITUTIONS
FAITH-BASED ORGANISATIONS AT THE UNITED NATIONS
Jeffrey Haynes
NATIONAL RELIGIONS: HOW TO BE BOTH UNDER GOD AND UNDER THE EUROPEAN UNION?
François Foret
RELIGION IN THE EUROPEAN UNION: THE FORGOTTEN FACTOR
Brent F. Nelsen and James L. Guth
RELIGIOUS MOVEMENTS AND RELIGION'S CONTRIBUTION TO GLOBAL CIVIL SOCIETY
Paul S. Rowe
WHOSE GOD? A HUMAN RIGHTS APPROACH
Paul Martin
GLOBAL CHRISTIAN NETWORKS FOR HUMAN DIGNITY
Allen D. Hertzke
ISLAM AND HUMAN RIGHTS IN PAKISTAN
Ishtiaq Ahmed
BUILDING A REFORM MOVEMENT: COULD MUSLIMS EMULATE NINETEENTH CENTURY JUDAISM?
Jonathan Benthall
THE RELIGION AGENDA: THE SAHRAWI REFUGEES AND THE POLITICS OF TOLERANCE
Elizabeth Shakman Hurd
CONCLUSION
Timothy Fitzgerald