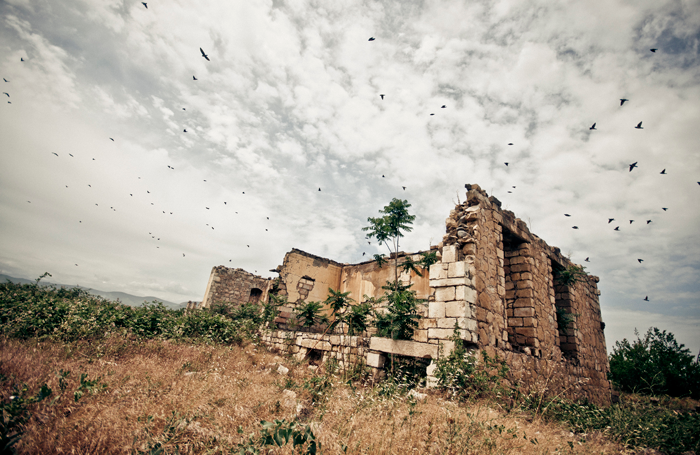 Image by Marco Fieber
When Soviets started to lose power after Michael Gorbachev`s Openness and Restructuring policies, the dissension between ethnic Armenian-Azeri exploded into furious violence which led to the Nagorno-Karabakh War from February 1988 to May 1994. In late 1991, with the dissolution of the Soviet Union, Karabakh declared itself an independent republic (Klever, 2013). The de facto status remains unrecognized elsewhere, and then in 1993, Armenian forces controlled most of the territories of Karabakh including the districts of Agdam, Fizuli, Kelbaijar, Kubatly, and Zangelan. At the end of the war, more than seventeen thousand people died in the fighting, and more than one million were displaced (Waal and Garden, 2003); 230.000 Armenians from Azerbaijan and 800.000 Azerbaijanis from Armenia and Karabakh were displaced as a result of this conflict (Vener and Campana, 2008). Ceasefire was brokered by Russia and signed in May 1994 and peace talks mediated by the OSCE Minsk Group have been held ever since by Armenia and Azerbaijan (Freizer, 2014). However, heavy fighting broke in Nagorno-Karabakh on 2 April 2016.
As stated in the title, this article will focus on Armenian claims, Azerbaijan's position, and the peace efforts over the Nagorno-Karabakh conflict. For this purpose, firstly, the article's analysis will be drawn from the historical background that leads to the war in Karabakh. Then, Russian security and strategic energy interests in the region will be discussed through the Nagorno-Karabakh issue. In addition, Azerbaijan's and Armenia's positions on the Nagorno-Karabakh will be analyzed. Finally, the peace efforts from the beginning to the latest clashes in the Nagorno-Karabakh conflict will be discussed.
Why Did War Erupt?
The relationship among the three major ethnic groups of the Transcaucasus (the Armenians, Azerbaijanis, and Georgians) has been negative since at least the onset  of  the  Russian  annexation  of  the  region  in  the  early  nineteenth  century (Yamskov, 1991). As a consequence, Armenians and Azerbaijanis had the territorial conflict of Nagorno-Karabakh. Armenia insists that it was part of an early Christian kingdom, citing the presence of ancient churches as evidence. And by contrast, Azeri historians argue that the churches were built by the Caucasian Albanians, a Christian nation whom they regard as among the forebears of the Azeri people (Tuncay, 2010). With reference to Soviet documents, the region of Nagorno-Karabakh was populated by mostly ethnic Armenians in 1921 (Cohen, 2016). It should be noted that the formation of this population density was caused by Armenian migration after the breakup of the Ottoman Empire and The Russian Empire's migration policy in the Caucasus (Kodaman, 2014). However, the region of Nagorno-Karabakh was given to the Azerbaijan SSR by the USSR and the Nagorno-Karabakh Autonomous Oblast (Region) was established within the Azerbaijan SSR in 1923.
On the other hand, Armenians were discontent with this situation and the question of Nagorno-Karabakh re-emerged with the beginning of the dissolution of the Soviet Union in the late 1980s and early 1990s. Demographic statistics of Nagorno-Karabakh in 1921 shows that Armenians made up to 94 percent of the population, which reduced to 76 percent in 1979 (Matveeva, 2007). Inter-ethnic fighting between the two broke out shortly after the parliament of the Nagorno-Karabakh Autonomous Oblast (NKAO) which was established on 7 July 1923 as an autonomy in Karabakh region (MFA of Azerbaijan, 2015) in Azerbaijan voted to unify the region with Armenia on February 20, 1988 (Lindenstrauss, 2015). When Azerbaijan and Armenia became independent from the Soviet Union in 1991, the Nagorno-Karabakh Autonomous Oblast also wanted to become independent from Azerbaijan but then NKAO wanted to unite with Armenia. In addition to this, Levon Ter-Petrosyan, the first president of Armenia, wanted to take Nagorno-Karabakh from Azerbaijan (Kasım, 2010). The initial ambition of the Karabakh Armenians was to merge their territory with Armenia, but following the fall of the Soviet Union, this became politically untenable. Nagorno-Karabakh declared its independence in 1991, and Armenia finally officially supported this goal in 1998, but it got no recognition (Zurcher, 2007). UN member states, including Armenia, and international organizations do not officially recognize Nagorno-Karabakh, it is recognized only by Abkhazia, South Ossetia and Transnistria which themselves have controversial status (Özdaşlı and Kodaman, 2016). The starting point of Nagorno-Karabakh war can be shown as territorial disputes as a result of changing demographics after immigration policies in the region. The problem here may seem like just territorial disputes, but the interests of regional powers are also involved in the conflict.
What Are Russia's Interests in Nagorno-Karabakh?
Russia sees the South Caucasus as its backyard and also needs to keep under control the southern energy corridor for her economic interests. So, Russia wants to be powerful and influential in the Caucasus. When the Soviet Union collapsed, Russia lost its influence over Georgia and Azerbaijan. Russian-Georgian relations have deteriorated seriously after the Russian – Georgian War in 2008 (Kakachia, 2010). Azerbaijan – Russia relations have experienced many ups and downs, from closing of the borders and accusing each other of supporting separatism to cordial statement of strategic importance (Valiev, 2011). So, the only state which can help to spread Russian influence on the Caucasus is Armenia. Nagorno-Karabakh can reduce Turkish influence over South Caucasus and Central Asia. Russia always sees Turkey as a danger for its interests, because, Turkey is a NATO member, the overwhelming majority of its population, 99 percent, is Muslim (Republic of Turkey Directorate General of Press and Information, 2012) and has very important ethnic and historical ties with Caucasian and other Turkic people within Russian Federation. Armenia is a buffer zone between Turkey and Azerbaijan. Armenia is the only country that can cut the ties between Azerbaijan and Turkey or at least reduce Turkish influence.
Azerbaijan is Georgia's new energy patron with The South Caucasus Pipeline (Baku–Tbilisi–Erzurum Pipeline), Baku-Tbilisi-Ceyhan pipeline, and The Baku–Supsa Pipeline. In addition to this, the implementation of the TANAP project is underway and initial gas flow is expected sometime in 2018. Because of this, Azerbaijan causes problems for Russian influence on the Caucasus, because as mentioned above, with oil and natural gas pipelines, Azerbaijan decreases other countries` Russian energy dependency. Therefore, Russians prefer Armenia as a puppet state in the Caucasus. In the fall of 1991, Azerbaijan's President Ayaz Muttalibov decided to oust Russia from oil extraction consortiums in Azerbaijan. After this, Azerbaijan experienced a brutal massacre in Khojaly on 25-26 February 1992. Soldiers and officers of 366th Russian regiment and Armenian forces took part in the attack on Khojaly (İşyar, 2010).
In addition to this, Russia uses the Karabakh conflict to its interests. Although Armenia was expected to make Deep and Comprehensive Free Trade Area Agreement through Association Agreement in Vilnius summit in 2013 with the EU, it gave up this decision, and became a member of the Eurasian Economic Union under the leadership of Russia (Manoli, 2013). So, why did Armenia suddenly change its pro-EU stance? On August 13, 2013, Putin visited Azerbaijan. And during the meeting, Azerbaijani President Ilham Aliyev stated that his country had a trade volume about $ 4 billion with Russia in military areas, which was considered to be Putin's maneuver against Armenia. Russia began to follow a more intimate strategy towards Azerbaijan in order to corner Yerevan because of its EU policies. Thus, Russia succeeded in keeping both Azerbaijan and Armenia in its economic union, owing to Nagorno-Karabakh problem (Özdaşlı, 2015).
Heavy clashes in Nagorno-Karabakh suddenly began on April 2, 2016. Both sides have accused each other of breaking the ceasefire. So, why did this conflict emerge suddenly? The main reason for the recent clashes passes through Russia's energy policy (Hasan, 2016). TANAP project is seen as an important diversification project by the EU and threatening the Turkish Stream pipeline of Russia (Henderson and Mitrova, 2015). Shortly before the conclusion of negotiations and agreements on TANAP, bombs exploded three times in Ankara. President of Turkey was going to visit Azerbaijan on 18 February 2016, but on 17 February 2016, a large explosion occurred in the Turkish capital, Ankara and the visit to Azerbaijan was postponed to 15 March 2016 (Ali, 2016). But this time on 13 March terrorist bombings occurred in Ankara. For this reason, the president of Turkey could not go to Azerbaijan and talks were postponed again. However, after the last bomb eruption in Ankara, Azerbaijani president Ilham Aliyev decided to come to Turkey and finally agreement on TANAP was signed. After the signature, the last Karabakh clashes erupted.
Why Do Armenians Have an Advantage and Azerbaijanis Are in a Disadvantaged Position on the Nagorno-Karabakh Issue?
The Armenian diaspora and its strong Armenian lobby play an important role in the country's position. Nagorno-Karabakh has been quick to rebuild with substantial assistance from Armenia and the numerous and relatively wealthy and influential Armenian diaspora abroad (Parker and Wilson, 2015). Furthermore, Russia helps Armenia militarily and politically (Wolfson, 2009). The Russian Federation is the most effective state in the OSCE Minsk Group which is the only mechanism of peaceful solution for Nagorno-Karabakh issue. Azerbaijanis believe that Russia only helps Armenian side in the Group, therefore, there has been no solution for Nagorno-Karabakh issue since the Minsk Group was established (Pashayeva, 2010).
On the other hand, Azerbaijan is not a rich country. It just started to straighten its economy through its oil reserves. The Azerbaijani lobby is not as strong as Armenian lobby in the world. The Republic of Turkey is the only country that can support Azerbaijan in this issue. However, in the 1990s, Turkey's economy was not strong and had a terrorism problem in its southeastern part of the country. Azerbaijan had also other issues in 1990's such as the Lezgin problem in the north and Talysh problem in the south of Azerbaijan, because of this, Azerbaijan and Turkey did not focus on Nagorno- Karabakh problem strongly in 1990s (İşyar, 2010).
What Are the Peace Efforts for Nagorno-Karabakh?
The Organization for Security and Co-operation in Europe created the Minsk Group in Helsinki in 1992. This group comprised of 11 nations and was co-chaired by France, Russia and the United States with the purpose of mediating a peace deal with Armenia and Azerbaijan. The Minsk group could not become successful in 1990s because there were other problems such as war in Chechnya, Yugoslavia, Moldova, Abkhazia and Ossetia.
During 1992-1993 the UN Security Council adopted four resolutions (822, 853, 874 and 884) and made six statements of the UNSC President on the Armenian-Azerbaijani conflict. Each of the abovementioned resolutions and statements confirms the territorial integrity of Azerbaijan, condemns the occupation of the Nagorno-Karabakh region and adjacent territories, and demands the immediate cease-fire, suspension of hostilities and withdrawal of all occupying forces from the territory of the Republic of Azerbaijan (MFA Azerbaijan, 2014). On 5 May, 1994, a Russian-brokered cease fire (Bishkek Protocol) was signed between the Republic of Armenia and the Republic of Azerbaijan in Bishkek, the capital of Kyrgyzstan. The protocol, still in effect, terminated the Nagorno-Karabakh War and froze the issue. On 6 December 1994, the Budapest Summit decided to establish a co-chairmanship for the process. Both sides met in different places between 1995 and 1998. In 2001, the presidents of both Azerbaijan and Armenia met for talks in Key West, Florida. Nevertheless, there was no comprehensive solution for Nagorno-Karabakh problem after these meetings (U.S. Department of State, 2001).
The Prague Process in 2004 entailed direct bilateral negotiations between the Azerbaijan and Armenia. The two sides met eleven times in total, but little progress was made. In February 2006, the Armenian and Azerbaijani presidents met near Paris for talks with French President Jacques Chirac (Mehtiyev, 2005) without reaching an agreement. On 2 November 2008, Azerbaijani President Ilham Aliyev and Armenian President Serzh Sarkisian traveled to Moscow for talks with Russian President Dmitry Medvedev. The talks ended in the signing of a declaration confirming their commitment to continue talks (Giragosian, 2008).
Furthermore, the Republic of Armenia and the Republic of Turkey have agreed to start their internal political consultations on the two protocols, the Protocol on the establishment of diplomatic relations and the Protocol on the development of bilateral relations on 31 August 2010. Turkey and the leadership in Ankara are ready to reengage in the normalization process (Khachatrian, 2010). However, Turkey fears to lose Azerbaijan's confidence (Kodaman, 2013). If Turkey loses Azerbaijan, it will lose Azeri Gas and Baku-Tbilisi-Ceyhan and TANAP Pipelines. Similarly, it will lose the race in the Caucasus against Russia. Thus, Ankara demanded Armenia to end its occupation of the Nagorno-Karabakh region before the Parliament ratifies the protocols. So, the issue of the Nagorno-Karabakh has started to be discussed more deeply again. Heavy clashes in Nagorno-Karabakh suddenly began on 2 April  2016 and continued for more than four days. Clashes ended with cease-fire agreement. On 5 April 2016, a ceasefire was announced in the breakaway region of Nagorno-Karabakh after four days of intense fighting in Nagorno-Karabakh (MacFarquhar, 2016).
Conclusion
Karabakh is located midway between the Azerbaijani, Armenian and Iranian borders. In terms of geography, Karabakh is the door to Anatolia (Turkey), Iran and Azerbaijan. Therefore, it can be said that Karabakh has a geopolitical importance in the region. Moreover, Karabakh has a special importance for both Azerbaijan and Armenia. Karabakh is very important for Azerbaijan, because, they claim that this region is a historical Azerbaijani land. In addition to this, Karabakh forms approximately 30 percent of the Azerbaijan territory. So, Karabakh is very big loss for Azerbaijan. They may want to take revenge on their Karabakh war victims during 1988-1994. For Armenia, Karabakh is one of the places for creating greater Armenia. Thus, both sides will not give up their claims over the Nagorno-Karabakh. The Caucasus has strategic importance to surrounding powers like Russia, Turkey and Iran. Each conflict has attracted the attention of the surrounding powers in this region, and Nargorno-Karabakh conflict is one of them. As noted in the study, Armenia is the sole supporter of Russia in southern Caucasus. Only Armenia from the Caucasus became a member of Russian-led Eurasian Economic Union. Armenia is important for Turkey too, because, Armenia is located between Azerbaijan and Turkey. Because of Karabakh War in 1990s these two countries closed their border crossings with Armenia. Therefore, each pipeline, transport and trade project which comes from Azerbaijan or Central Asia is directed to Georgia. This also increases the cost of the projects.
There is a peace process for this conflict but in the Caucasus ordinary ways of solving a conflict is useless. There must be comprehensive solution for Nagorno-Karabakh. It is also conceivable that the recent clashes have negative effect on the peace talks. In a place where the interests of countries in the region continue, the solution is hard. For this reason, the interests of the regional countries should be considered in the peace talks. But their interests clash, so peace cannot be achieved. Therefore, no solution is seen as a solution. Ceasefire continues, but the recent conflict on 2 April 2016 shows that the ceasefire can easily be broken.
References
Ali S. (2016) Azerbaijani president's visit to Turkey serious message to world, Trend News Agency
Cohen A., (2016) U.S. Leadership Amiss in Resolving the Armenia-Azerbaijan Clash over Nagorno-Karabakh, The Huffington Post
Freizer S., (2014) Twenty years after the Nagorny Karabakh ceasefire: an opportunity to move towards more inclusive conflict resolution, Caucasus Survey, Vol.1, No:2, pp. 109-122.
Giragosian R. (2008) Academia Regional Developments, Reports and Events November 2008, Turkish Policy Quarterly, Volume 7, Number 3, pp. 113-123.
Gökay B., (2001) The Politics of Caspian Oil, Houndmills, Basingstoke. Hampshire; New York: Palgrave.
Hasan A., (2016) Aliyev'den büyük jest: Bugün Ankara'ya geliyor, Milliyet
Henderson J. & Mitrova T. (2015) The Political and Commercial Dynamics of Russia's Gas Export Strategy, Oxford Institute for Energy Studies, NG 102, pp. 1-82.
İşyar Ö. G. (2010) Azerbaycan ve Dış Politikası, Tayyar Arı (Ed.) Orta Asya ve Kafkasya: Rekabetten İşbirliğine, Bursa: MKM Yayıncılık.
Khachatrian H. (2010) The Turkish-Armenian Normalization Bid in 2008-2010: An Armenian View, Journal of Central Asia and the Caucasus, Volume 11, Number 3, pp. 94-101.
Kakachia K. (2010) Between Russian Assertiveness and Insecurity: Georgia's Political Challenges and Prospect after the Conflict, Uluslararası İlişkiler, Volume 7, No 26, p. 87-104.
Kasım K., (2010) Ermenistan, Tayyar Arı (Ed.) Orta Asya ve Kafkasya: Rekabetten İşbirliğine, Bursa: MKM Yayıncılık.
Klever E. (2013) The Nagorno-Karabakh conflict between Armenia and Azerbaijan: An overview of the current situation, European Movement, pp. 1-27.
Kodaman T. (2013) Ermeni Açılımı ve Türk Dünyası, SDU Faculty of Arts and Sciences Journal of Social Sciences, No: 30, pp. 111-122.
Kodaman T., (2014) Rusya-İngiltere ve Ermeni Meselesi, Yeni Türkiye, No: 60, pp. 1-8.
Lindenstrauss G., (2015) Nagorno-Karabakh: The Frozen Conflict Awakens, Strategic Assessment, Volume 18, No. 1, pp. 97-108.
Manoli P. (2013) Political Economy Aspects of Deep and Comprehensive Free Trade Agreements, Eastern Journal of European Studies, Volume 4, Issue 2, pp. 51-73.
Marjanlı M., (2011) Armenians. Russia. The Caucasus, Dubai: Khazar University Press.
Matveeva A., (2002) Paul van Tongeren, Hansvan de Veen & Juliette Verhoeven (eds.) Nagorno Karabakh: A Straight Forward Territorial Conflict. Boulder, CO: Lynne Rienner Publishers.
MacFarquhar N. (2016) Azerbaijan Claims to Halt Violence in Nagorno-Karabakh, but Warns Armenia, The NewYork Times.
Mehtiyev E., (2005) Armenia-Azerbaijan Prague Process: Road Map to Peace or Stalemate for Uncertainty?. Defence Academy of the United Kingdom, Caucasus Series 05/23, pp. 1-22.
MFA Azerbaijan (2014) Azerbaijan and UN relations.
MFA Azerbaijan (2015) The Nagorno-Karabakh Autonomous Oblast of the Azerbaijan SSR.
Özdaşlı E., (2015) Turkey-Azerbaijan Relations After Armenian Initiative: Two Steps Forward One Step Back, International Journal of Academic Research, Vol. 7. No. 5. pp. 70-76.
Özdaşlı E., & Kodaman T., (2016) Stratejik Ortaklık Kavramı Bağlamında İsrail Azerbaycan İlişkileri, Ankara: Orion Kitabevi.
Parker D. & Wilson J. (2015) Nagorno-Karabakh: The Volatile Core of the South Caucasus, SRAS.
Pashayeva G. (2010) The Nagorno–Karabakh Conflict in the Aftermath of the Russia–Georgia War, Turkish Policy Quarterly, Volume 8, Number 4, pp. 55-69.
Republic of Turkey Directorate General of Press and Information (2012) Turkey: Country Profile, Ankara.
Tuncay B., (2010) Qafqaz Albanlarinin Dili Və Ədəbiyyati, Baku: Qanun Nəşriyyatı.
U.S. Department of State, Armenia and Azerbaijan: Key West Peace Talks, April 6, 2001.
Waal T. & Garden B., (2003) Armenia and Azerbaijan through Peace and War. New York: New York University Press.
Wolfson Z. (2009) Armenian "Traces" in the Proliferation of Russian Weapons in Iran, ACPR Policy Paper No. 143, pp. 1-17.
Valiev A. (2011) Azerbaijan-Russia Relations After the Five-Day War: Friendship, Enmity, or Pragmatism?, Turkish Policy Quarterly, Volume10, Number 3, pp. 133-143.
Vener, B. B., & Campana M. E., (2008) Conflict, Cooperation, and the New 'Great Game' in the Kura-Araks Basin of the South Caucasus. Proceedings, Universities Council on Water Resources/National Institutes for Water Resources (UCOWR/NIWR) Annual Conference, Durham, NC.
Yamskov A. N., (1991) Ethnic Conflict in the Transcausasus: The Case of Nagorno-Karabakh, Theory and Society, Vol. 20, No. 5, pp. 631-660.
Zurcher C., (2007) The Post-Soviet Wars. New York: New York University Press.
Further Reading on E-International Relations