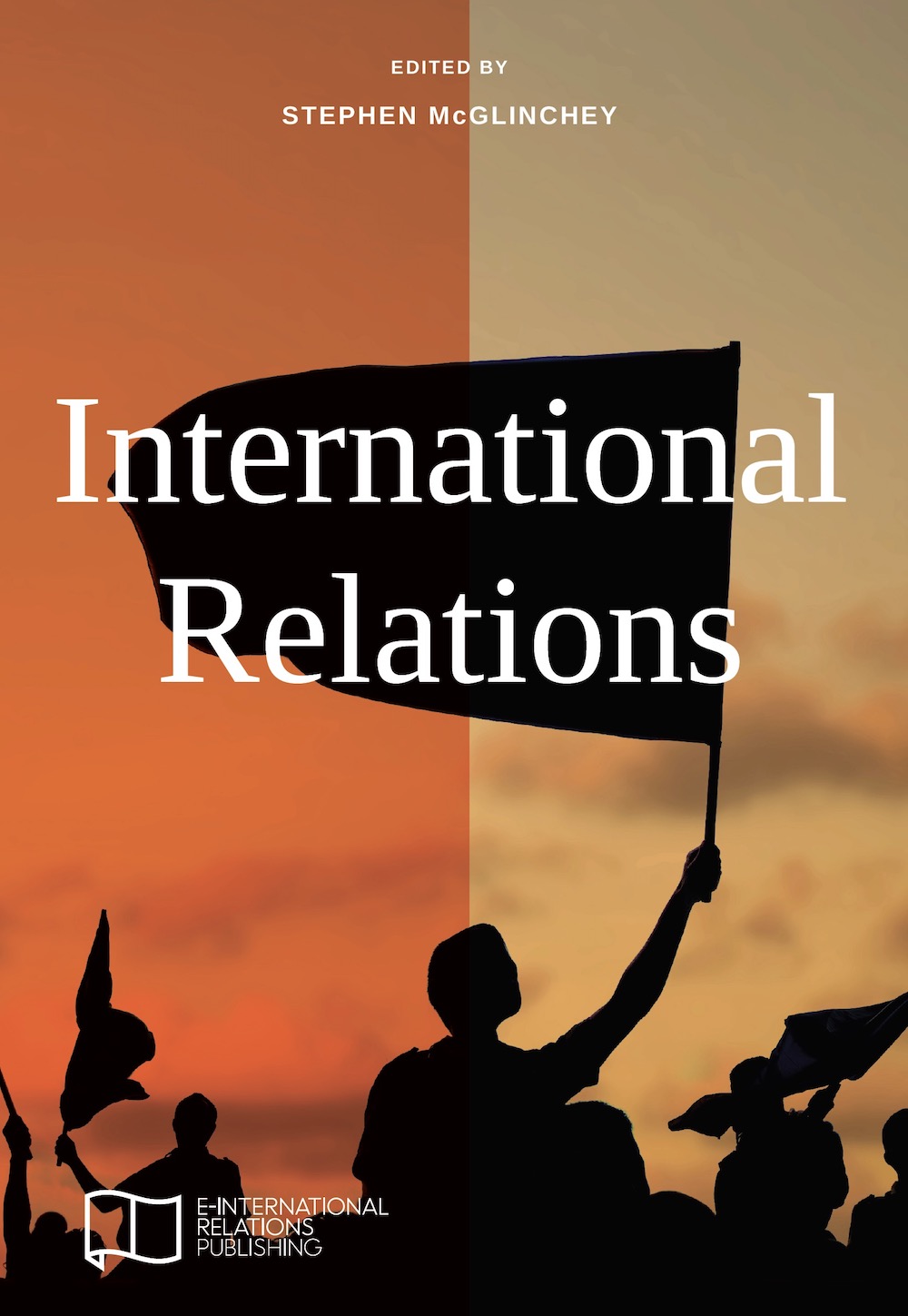 International Relations – an E-IR Foundations beginner's textbook.
Edited by Stephen McGlinchey.
Available now on Amazon (UK, USA, Ca, Ger, Fra), in all good book stores, and via a free PDF download. Kindle, iBook and other e-reader versions are available via the relevant stores/apps. 
Find out more about E-IR's range of open access books here.
This book is designed to be a 'Day 0' introduction to International Relations. As a beginner's guide, it has been structured to condense the most important information into the smallest space and present that information in the most accessible way. The chapters offer a broad sweep of the basic components of International Relations and the key contemporary issues that concern the discipline. The narrative arc forms a complete circle, taking readers from no knowledge to competency. The journey starts by examining how the international system was formed and ends by reflecting that International Relations is always adapting to events and is therefore a never-ending journey of discovery. Unlike typical textbooks, there are no boxes, charts, pictures or exercises. The philosophy underpinning this book is that these things can be a distraction. This book, like others in the E-IR Foundations series, is designed to capture attention with an engaging narrative. The chapters are short, with simple paragraphs and clear sentences placing the reader inside crucial issues and debates so they can understand how things work, and where they fit in the world around them.
—
Table of Contents
Download the PDF (above) or read the web versions of each chapter (below)
INTRODUCTION – GETTING STARTED (Stephen McGlinchey)
PART ONE – THE BASICS
PART TWO – GLOBAL ISSUES
In today's volatile and fast moving world, it is important to understand how things really work on the global stage. This book brings together scholars and practitioners from around the world to explain key issues, concepts and dynamics from a variety of perspectives in clear and accessible language. An invaluable and interesting read for anyone who wants to learn the basics of international relations.
– Marta Dyczok. Associate Professor, Departments of History and Political Science, University of Western Ontario.
With the turbulence all around us, everyone is affected by what happens elsewhere and no one can afford not to understand international relations. This is an essential guide to learning how to navigate our interconnected world.
– Mukesh Kapila, CBE. Professor of Global Health & Humanitarian Affairs, University of Manchester.
A succinct guide to International Relations that will be an ideal introduction for high school students and junior undergraduates.
– David R. Marples. Chair, Department of History & Classics, University of Alberta.
A thoughtful, well-written, intelligently presented and engaging narrative introduction to international relations.
– Richard Ned Lebow. Professor of International Political Theory, Department of War Studies, King's College London.
A concise and comprehensive introduction to the study of international affairs. Adopting a student-centred approach and using strong examples, this book is essential for promoting understanding about international relations.
– Yannis Stivachtis. Associate Chair, Department of Political Science, and International Studies Program Director, Virginia Tech.