Author profile: Brianna Nicole Hernandez
With an eclectic view on the economy, Mazzucato constructs a complex configuration of value creation beyond the tangible.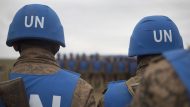 Sexual exploitation is about power more than gender or any physical attraction to a particularly sexed body. In the realm of peacekeeping, it is about the uniform.