Author profile: MašaKolanović
MašaKolanović is Assistant Professor in the Department for Contemporary Croatian Literature at the University of Zagreb. She is the author of numerous articles and books (both non-fiction and fiction), focusing on literature and popular culture during the Cold War and post-socialist period, including "Underground Barbie" (2008, 2012 on Croatian and German); "Worker! Rebel? Consumer… Popular Culture and Croatian Novel from Socialism till Transition" (on Croatian 2011); "Comparative Post-socialism: Slavic Experiences" (ed., 2013 on Croatian); "JAmerica: trip" (2013, on Croatian) and "The Cultural Life of Capitalism in Yugoslavia: (post)Socialism and its Other" (co-edited with D. Jelača and D. Lugarić, 2017, on English).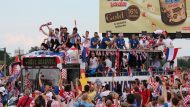 In looking at popular geopolitics as a kind of "post-language", we can use sport as a metaphor of national identity.