Post Tagged with: "American domestic policy"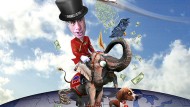 The term 'conservative' has been branded by politicians as a framework which allows them to peddle their political positions.
Fixing America's debt problem, repairing its infrastructure, and re-training the workforce for a modern economy would prove popular. If only someone would make those promises.