Post Tagged with: "German federal elections"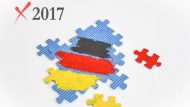 The election in Germany brings the country into line with other countries in Europe with strong right-wing populist parties.
In today's world, trust in statecraft plays a major role in facilitating international agreement. German parties should act responsibly and build a stable governing coalition soon.
Angela Merkel's resounding victory in the German federal elections has been portrayed in much of the European press as solidifying German power in the EU, but her election success has also brought domestic problems.