Post Tagged with: "influence"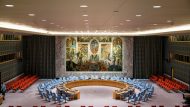 Diplomacy is the art of restraining force and enhancing power, with the unintentional effect of a reduction of power.
A relationship between international actors based on sponsorship differs from classical notions of clientelism and soft power, and is critical of exclusively statist conceptions of international politics. Sponsorship, I argue, becomes a mutual determinant and accelerator of globalisation.