Post Tagged with: "naval"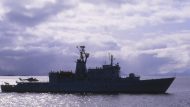 Caught between a resurgent Russia and a Trump presidency, how has Norway navigated its trans-Atlantic security relationship?
The outlook for maritime Asia appears increasingly desolate. Should China rule the skies while the United States commands the depths, surface fleets on both sides — not to mention the merchantmen that transport the raw materials and finished goods that sustain our globalized economy — will be caught in the no-man's land between.