Post Tagged with: "Republican"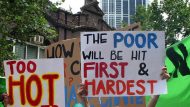 It would be beneficial to plan mitigation policies and communication strategies by taking negative consequences and societal impact into account.
To remain competitive the Republicans need to expand their appeal beyond their 2012 voter base, particularly in order to capture votes from women, young people and the Latino population.
The first American Tea Party movement which gave us the American Revolution had huge international implications although like the current one it was initially overwhelmingly focused on narrow economic issues, especially taxation and the fear of big government. The question some are beginning to ask is: what are the likely international implications of the current American Tea Party?