Post Tagged with: "riots"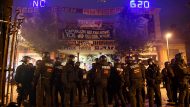 Jumping on the bandwagon of demonizing crowds does not quite get to the point of violent protests and their causes.
When making sense of the weird things currently happening in the northern hemisphere, such as the London riots, one trend should not escape our notice: a deepening crisis caused by bankers' greed is beginning to rip the guts out of democracy. Four years into the deepest economic crisis since the Great Depression, governments of vital parts of the capitalist world are running on empty.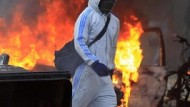 I riot because I have absolutely nothing to lose. I riot because I'm angry. Anger envelopes me like a blanket every day of my life. I'm angry because I'm poor, I've always been poor, and I know I will never be able to afford all those nice things people are supposed to have. I'm angry because my life is shit and I know it's always going to be shit. You want to lock me up for it? Go ahead. It means nothing to a nothing like me.