Post Tagged with: "values"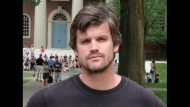 Dr. Steven C. Roach discusses his research on theorizing emotional actions and the value of resilience in International Relations Theory.
"Our greatest investment is in our intellectual assets" working to address "challenges from the environment to medicine" proudly proclaims University College London (UCL) Provost, Malcolm Grant. UCL runs an MSc Systems Engineering course in partnership with BAE Systems, Britain's largest arms company, responsible for producing artillery guns, munitions and missiles, even warships and nuclear submarines, and whose customers include the repressive Saudi Arabian secret services, the Israeli Defence Forces, the US army and the Indonesian forces responsible for violently extinguishing West Papua's secession movement.

During World War II, the BBC represented a crucial arm of UK foreign policy, broadcasting allied propaganda across occupied Europe. Sixty years later the organisation has developed an international reputation for impartiality, yet 'BBC World Service' still plays an important role in transmitting 'British' values across the globe.