Author profile: David Scott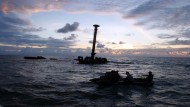 India's strategic-military arrangements are implicitly China-centric, and with increasing significance for the balance of power in the South China Sea.
July 26 2009 saw a milestone reached by the Indian navy at Vishakapatnam, their eastern Command centre, as Prime Minister Manmohan Singh formally launched India's own domestically produced 6,000 ton nuclear powered submarine, INS Arihant. Has the moment arrived when the Indian navy achieves blue water status with a reliable nuclear deterrent?