Author profile: Laura Sjoberg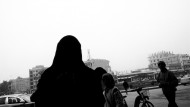 So long as gender stereotypes rule our understandings of women's participation in terrorism, those understandings will necessarily be partial.
Confortini's analysis of the Women's International League for Peace and Freedom benefits feminist IR theory by making it more accessible and clearly applicable.
Gender is not the only lens, idea, concept, or 'variable' that one needs to explain security. But, security cannot be fully defined, understood, or obtained without the aid of feminist theorizing.