Author profile: Timothy Frayne
Natural resources in Azerbaijan attract significant FDI, but dependence on oil-sector revenues does not always suggest good governance.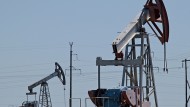 By examining the effects of the government's fiscal policies, it is possible to discover the nature of Russia's resource dependency.
The collapse of the USSR was almost entirely based on the 'regime implosion' within the CPSU which was ill-prepared for newly introduced reforms and their consequences.