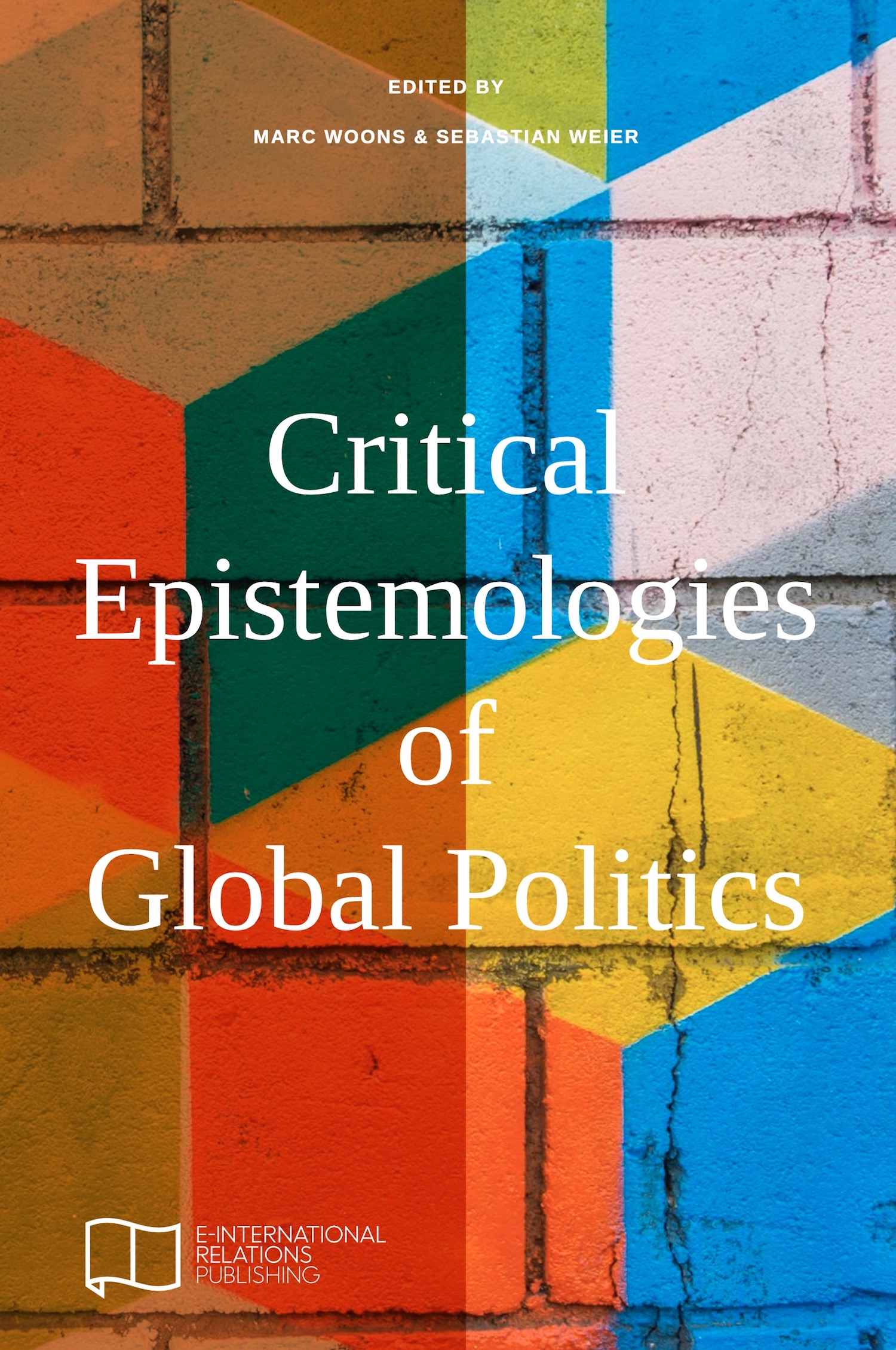 Critical Epistemologies of Global Politics combines social science and cultural studies approaches to IR, showing why contemporary Border Studies needs to be trans-disciplinary if it is to avoid reproducing the epistemological and political order that has led to contemporary global crises like the rise of ISIS, global migration, or increasing contestations of the State form as such. The volume offers a critical epistemology of global politics and proposes an enriched vision of borders, both analytically and politically, that not only seeks to understand but also to reshape and expand the meanings and consequences of IR.
Edited by: Marc Woons & Sebastian Weier
Contributors: Pierre-Alexandre Cardinal, Nora El Qadim, Astrid Fellner, Paula von Gleich, Matt Gordner, Juliane Hammer, Susanne Hamscha, Rosalba Icaza, Azeezah Kanji, Christian Langer, Katie Merriman, Walter D. Mignolo, Amber Murrey and Karsten Schulz.
---
Table of Contents
INTERVIEW WITH WALTER D. MIGNOLO
DECOLONIAL FEMINISM AND GLOBAL POLITICS: BORDER THINKING AND VULNERABILITY AS A KNOWING OTHERWISE – Rosalba Icaza
DECOLONISING THE ANTHROPOCENE: THE MYTHO-POLITICS OF HUMAN MASTERY – Karsten A. Schulz
COLONIAL ANIMALITY: CONSTITUTING CANADIAN SETTLER COLONIALISM THROUGH THE HUMAN-ANIMAL RELATIONSHIP – Azeezah Kanji
A POST/DECOLONIAL GEOGRAPHY BEYOND 'THE LANGUAGE OF THE MOUTH' – Amber Murrey
ONTOLOGICIDAL VIOLENCE: MODERNITY/COLONIALITY AND THE MUSLIM SUBJECT IN INTERNATIONAL LAW
- Pierre-Alexandre Cardinal
MULTICULTURALISM AT THE CROSSROADS: LEARNING BEYOND THE WEST – Marc Woons
DE-EUROPEANISING EUROPEAN BORDERS: EU-MOROCCO NEGOTIATIONS ON MIGRATIONS AND THE DECENTRING
AGENDA IN EU STUDIES – Nora El Qadim
'UNGOVERNED SPACES?' THE ISLAMIC STATE'S CHALLENGE TO (POST-)WESTPHALIAN 'ORDER' – Matt Gordner
'WHAT GOES ON IN THE COFFIN': BORDER KNOWLEDGES IN NORTH AMERICAN LITERATURE – Astrid M. Fellner & Susanne Hamscha
THE INFORMAL COLONIALISM OF EGYPTOLOGY: FROM THE
FRENCH EXPEDITION TO THE SECURITY STATE
- Christian Langer
FUGITIVITY AGAINST THE BORDER: AFRO-PESSIMISM, FUGITIVITY, AND THE BORDER TO SOCIAL DEATH
- Paula von Gleich
INTERVIEW WITH JULIANE HAMMER