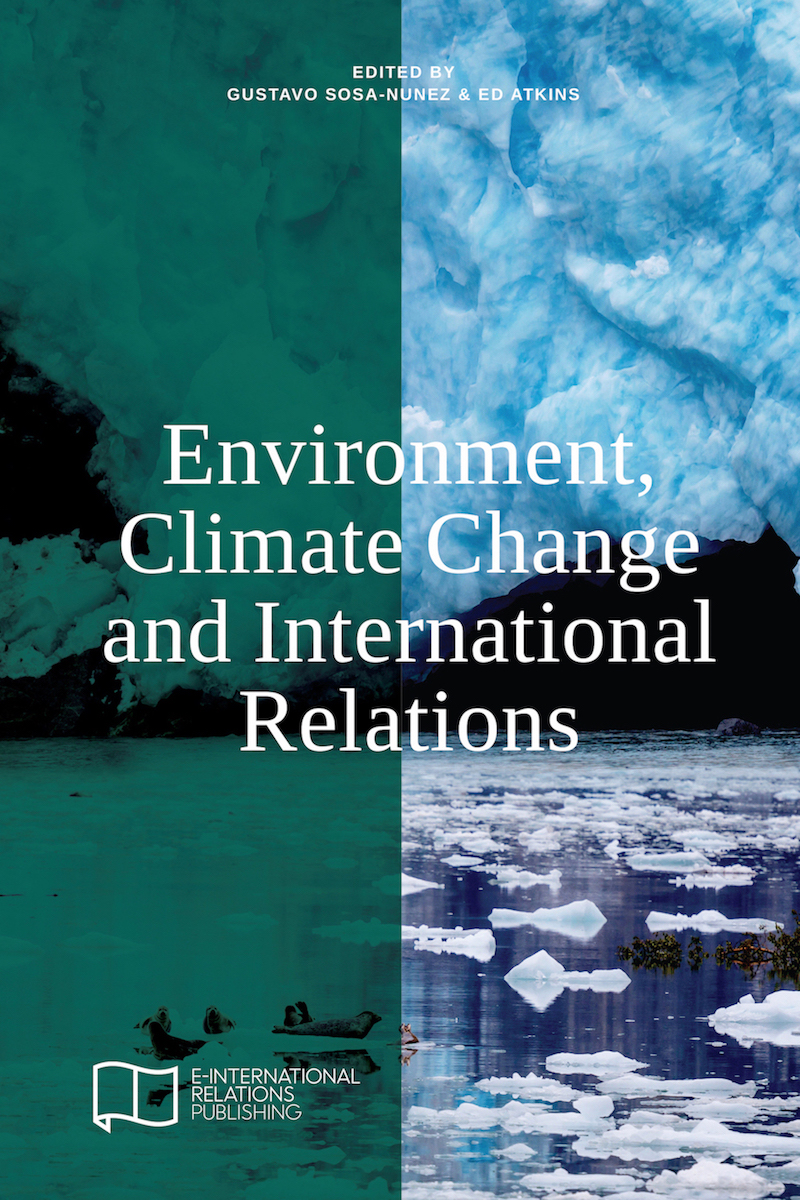 To state that climate change and environment issues are important to International Relations is an understatement. Mitigation and adaptation debates, strategies and mechanisms are all developed at the international level. Yet, the complexities of climate change make it a difficult phenomenon for international governance. In the wake of the 2015 Paris conference, this edited collection details current tendencies of study, explores the most important routes of assessing environmental issues as an issue of international governance, and provides perspectives on the route forward.
Edited by: Gustavo Sosa-Nunez & Ed Atkins
Contributors: Mizan R. Khan, Úrsula Oswald Spring, Simon Dalby, Nina Hall, Kirsti M. Jylhä, Emilie Dupuits, Simone Lucatello, Lau Øfjord Blaxekjær, Duncan Depledge, Lada V. Kochtcheeva, Leehi Yona, Alex Lenferna, and Matthew Rimmer.
---
Table of contents
INTRODUCTION
 (Ed Atkins & Gustavo Sosa-Nunez)
SECTION I: INTERNATIONAL RELATIONS TENDENCIES ON ENVIRONMENT AND CLIMATE CHANGE
CLIMATE CHANGE, ADAPTATION AND INTERNATIONAL RELATIONS THEORY (Mizan R. Khan)
PERSPECTIVES OF GLOBAL ENVIRONMENTAL CHANGE IN THE ANTHROPOCENE (Úrsula Oswald Spring)
ENVIRONMENT AND INTERNATIONAL POLITICS: LINKING HUMANITY AND NATURE (Simon Dalby)
THE INSTITUTIONALISATION OF CLIMATE CHANGE IN GLOBAL POLITICS (Nina Hall)
REFUSING TO ACKNOWLEDGE THE PROBLEM: INTERESTS OF THE FEW, IMPLICATIONS FOR THE MANY (Kirsti M. Jylhä)
SECTION II: ASSESSMENTS – WHICH WAY TO FOLLOW?
TRANSVERSAL ENVIRONMENTAL POLICIES 
(Gustavo Sosa-Nunez)
ENVIRONMENTAL CONFLICT: A MISNOMER? (Ed Atkins)
ACTORS OTHER THAN STATES: ROLE OF CIVIL SOCIETY AND NGOS AS DRIVERS OF CHANGE (Emilie Dupuits)
GLOBAL CLIMATE CHANGE FINANCE (Simone Lucatello)
SECTION III: TWO STEPS FORWARD, ONE STEP BACK: PERSPECTIVES AS WE CONTINUE WITH OUR LIVES
NEW PRACTICES AND NARRATIVES OF ENVIRONMENTAL DIPLOMACY (Lau Øfjord Blaxekjær)
CLIMATE CHANGE, GEOPOLITICS, AND ARCTIC FUTURES (Duncan Depledge)
RENEWABLE ENERGY: GLOBAL CHALLENGES (Lada V. Kochtcheeva)
THE FOSSIL FUEL DIVESTMENT MOVEMENT WITHIN UNIVERSITIES (Leehi Yona & Alex Lenferna)
INVESTING IN THE FUTURE: NORWAY, CLIMATE CHANGE AND FOSSIL FUEL DIVESTMENT (Matthew Rimmer)
CONCLUSIONS – LOOKING BEYOND INTERNATIONAL RELATIONS (Gustavo Sosa-Nunez & Ed Atkins)