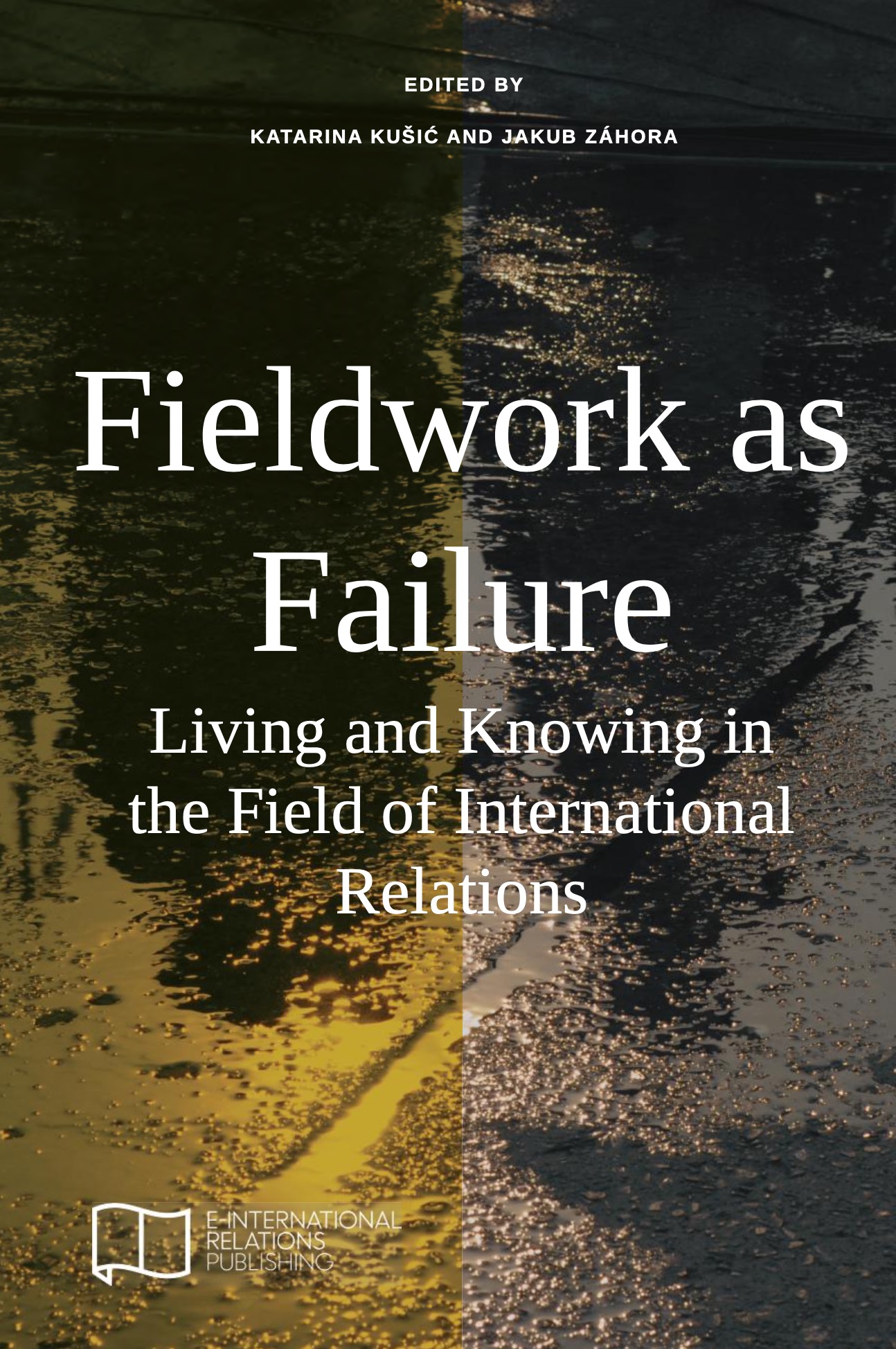 This volume aims to unsettle the silence that surrounds fieldwork failure in both methods training and academic publications. While fieldwork has gradually evolved into standard practice in IR research, the question of possible failures in field-based knowledge production remains conspicuously absent from both graduate training and writing in IR. This volume fills that lacuna by engaging with fieldwork as a site of knowledge production and inevitable failure. It develops methodological discussions in IR in two novel ways. First, it engages failure through experience-near and practice-based perspectives, with authors speaking from their experiences. And secondly, it delves into the politics of methods in IR and the discipline more generally to probe ways in which the realities of research condition scholarly claims.
Edited by Katarina Kušić and Jakub Záhora
Contributors: Berit Bliesemann de Guevara, Lydia C. Cole, Jan Daniel, Sezer İdil Göğüş, Johannes Gunesch, Danielle House, Xymena Kurowska, Ewa Maczynska, Emma Mc Cluskey, Holger Niemann, Amina Nolte, Desirée Poets and Renata Summa.
---
Table of contents
INTRODUCTION: FIELDWORK, FAILURE, IR
Katarina Kušić and Jakub Záhora
PART I: SUCCESSFULLY MAKING THE RESEARCHER
FIELDWORK, FEELINGS AND FAILURE TO BE A (PROPER) SECURITY RESEARCHER – Jan Daniel
NEGOTIATIONS IN THE FIELD: CITIZENSHIP, POLITICAL BELONGING AND APPEARANCE – Sezer İdil Göğüş
ATTUNING TO ALTERITY: FROM DEPRESSION TO FIELDWORK – Jakub Záhora
PART II: SITUATING KNOWLEDGE
FAILING BETTER TOGETHER? A STYLISED CONVERSATION – Johannes Gunesch and Amina Nolte
THE LIMITS OF CONTROL? CONDUCTING FIELDWORK AT THE UNITED NATIONS – Holger Niemann
TEARS AND LAUGHTER: AFFECTIVE FAILURE AND MIS/RECOGNITION IN FEMINIST IR RESEARCH – Lydia C. Cole
PART III: UNDERSTANDING AND CONNECTING
THE VALORISATION OF INTIMACY: HOW TO MAKE SENSE OF DISDAIN, DISTANCE AND 'DATA' – Emma Mc Cluskey
FAILING IN THE REFLEXIVE AND COLLABORATIVE TURNS: EMPIRE, COLONIALISM, GENDER AND THE IMPOSSIBILITIES OF NORTH-SOUTH COLLABORATIONS – Desirée Poets
REPRODUCING THE EUROPEAN GAZE THROUGH REFLEXIVITY: THE LIMITS OF CALLING OUT FAILURES – Ewa Maczynska
RESEARCHING THE UNCERTAIN: MEMORY AND DISAPPEARANCE IN MEXICO – Danielle House
PART IV: WRITING AS TRANSLATION
WHAT MIGHT HAVE BEEN LOST: FIELDWORK AND THE CHALLENGES OF TRANSLATION – Renata Summa
I DON'T KNOW WHAT TO DO WITH MYSELF: 'I' AS A TOOL, A VOICE AND AN OBJECT IN WRITING – Katarina Kušić
CONCLUDING REFLECTIONS
BUILDING ON RUINS OR PATCHING UP THE POSSIBLE? REINSCRIBING FIELDWORK FAILURE IN IR AS A PRODUCTIVE RUPTURE – Berit Bliesemann de Guevara and Xymena Kurowska