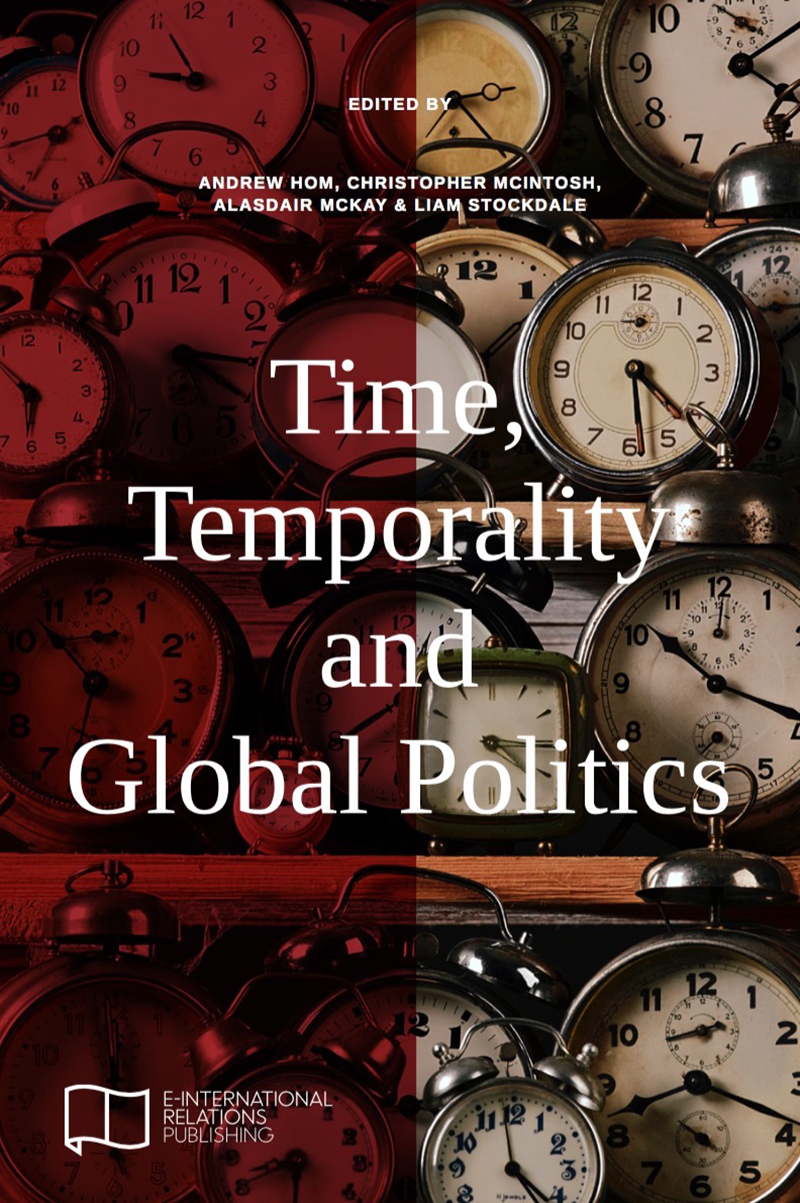 International Relations scholars have traditionally expressed little direct interest in addressing time and temporality. Yet, assumptions about temporality are at the core of many theories of world politics and time is a crucial component of the human condition and our social reality. Today, a small but emerging strand of literature has emerged to meet questions concerning time and temporality and its relationship to International Relations head on. This edited collection provides a platform to continue this work. The chapters in this book address subjects such as identity, terrorism, war, gender relations, global ethics and governance in order to demonstrate how focusing on the temporal aspects of such phenomena can enhance our understanding of the world.
Edited by: Andrew Hom, Christopher McIntosh, Alasdair McKay, and Liam Stockdale
Contributors: Shahzad Bashir, Kevin K. Birth, Valerie Bryson, Kathryn Marie Fisher, Robert Hassan, Caroline Holmqvist, Kimberly Hutchings, Tim Luecke, Tom Lundborg, Tim Stevens and Ty Solomon.
---
Table of Contents
INTRODUCTION
Alasdair McKay
TIMING, IDENTITY, AND EMOTION IN INTERNATIONAL RELATIONS – Andrew R. Hom & Ty Solomon
TIME CREATORS AND TIME CREATURES IN THE ETHICS OF WORLD POLITICS – Kimberly Hutchings
THE EPISTEMOLOGICAL CONSEQUENCES OF TAKING TIME SERIOUSLY AND THE VALUE OF GENERATIONAL ANALYSIS IN IR – Tim Luecke
GOVERNING THE TIME OF THE WORLD – Tim Stevens
CALENDAR TIME, CULTURAL SENSIBILITIES, AND STRATEGIES OF PERSUASION – Kevin K. Birth
ANALOGUE TIME, ANALOGUE PEOPLE AND THE DIGITAL ECLIPSING OF MODERN POLITICAL TIME – Robert Hassan
TIME, POWER AND INEQUALITIES – Valerie Bryson
WAR THROUGH A TEMPORAL LENS: FOREGROUNDING TEMPORALITY IN INTERNATIONAL RELATIONS' CONCEPTIONS OF WAR – Christopher McIntosh
ISLAM AND THE POLITICS OF TEMPORALITY: THE CASE OF ISIS – Shahzad Bashir
DISRUPTING THE 'CONDITIONAL SELFHOOD' OF THREAT CONSTRUCTION – Kathryn Marie Fisher
CATASTROPHIC FUTURES, PRECARIOUS PRESENTS, AND THE TEMPORAL POLITICS OF (IN)SECURITY – Liam P.D. Stockdale
CONCLUSION – HOW TIME SHAPES OUR UNDERSTANDING OF GLOBAL POLITICS
Caroline Holmqvist & Tom Lundborg