E-International Relations (E-IR) delivers an audience of international relations and politics-leaning students and scholars that is unmatched in its size and scope on the internet. The website represents the best online vehicle to advertise postgraduate/undergraduate degree courses and academic publications/resources to a global audience of engaged readers.
Annual audience of over 3 million unique visitors (readers who visit the website at least once)
70% of readers are currently in higher education, the bulk of whom plan to undertake further study.
Over 25% of readers are lecturers or professors
Broadly equal male/female readership
Audience growth of over 20% year on year
Dozens of universities have advertised with us in the past including George Washington, Surrey, Bath, Australian National University, Georgetown, Trinity, SOAS, Tartu, Queen Mary, Birmingham, Queen's, Cardiff, Newcastle, Otago, Melbourne, Leeds, National University of Singapore, Oxford Brookes and Exeter. Our clients have also included a range of academic journals and publishers such as Oxford University Press, Cambridge University Press, Pearson and Routledge. We have also hosted non academic clients such as NATO.
Advertiser case study: The University of the West of England placed a banner advert on E-International Relations  in 2016 as part of a long term strategy to promote student recruitment. They recruited 25% more students than in the years prior and have continued to experience growth year-on-year.
We offer a range of advertising options, as detailed below. Please direct all advertising enquiries to info@e-ir.info with the subject line/title 'Advertising' and let us know exactly what type of advert you would like and for what duration. All prices are in British pounds sterling (GBP). Advertisers are welcome to book different types of adverts at once for maximum impact. And, we welcome clients booking out space for longer periods of 6-12 months.
*Adverts appear on all versions of the website (desktop, mobile, tablet etc.). And are engineered to avoid most ad blocking software. All statistics are taken from google analytics and annual reader surveys.


WEBSITE 'BANNER' ADVERTS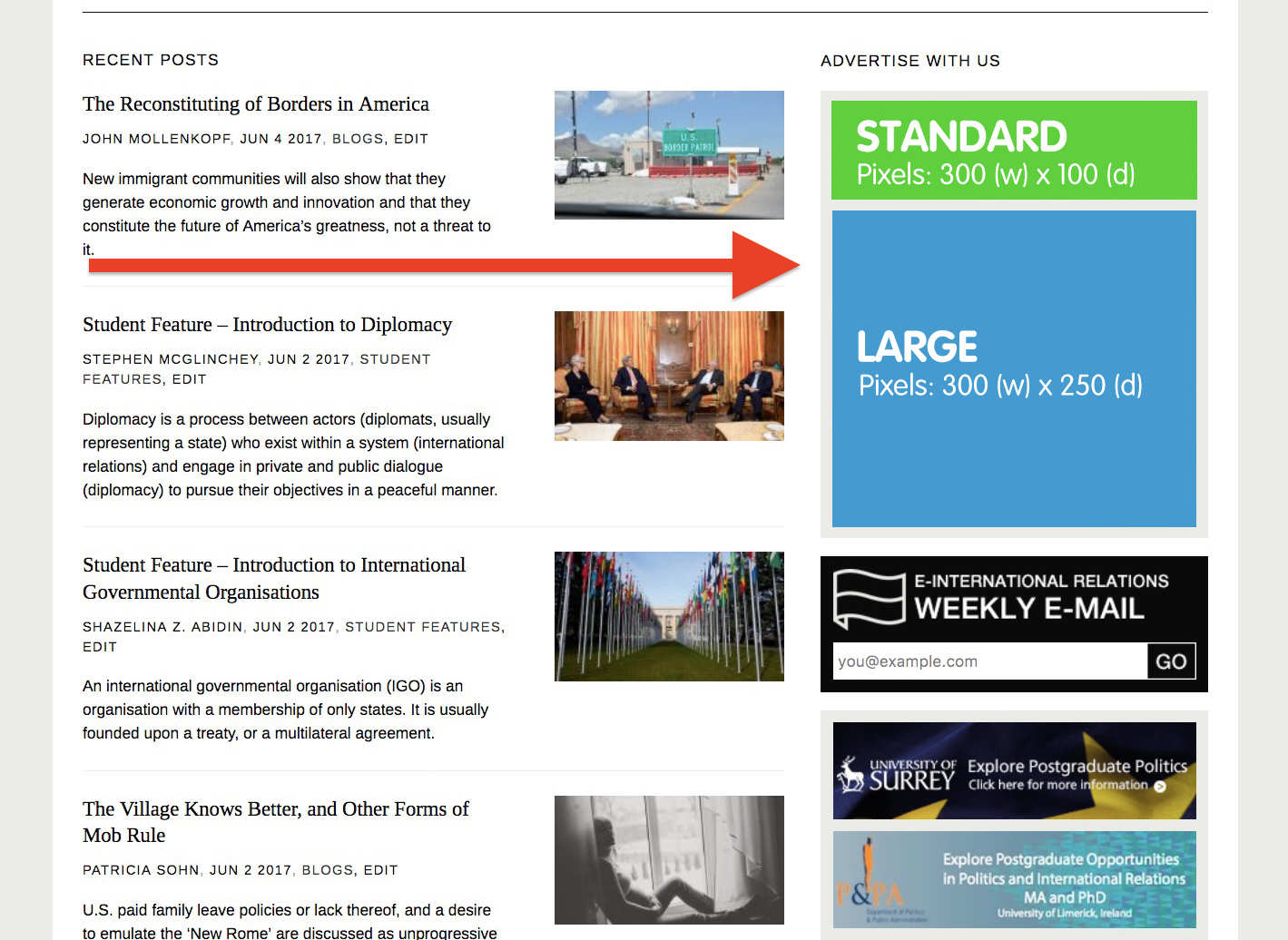 Banner adverts display on the right side of E-IR's homepage and on hundreds of category and author pages, including E-IR's Student Portal. They are effective at establishing a medium-to-long term advertising campaign to build up awareness for a degree scheme or product.
Banners are sold in quarterly (3 month) slots, at two sizes and four price tiers, catering for a range of budgets.
Click here to view live availability and pricing.
HOMEPAGE 'SKYSCRAPERS'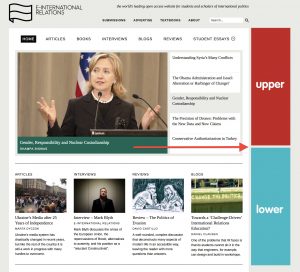 Skyscraper adverts are placed at the top of the E-IR homepage. They are effective at delivering a high impact shorter-term advertising campaign, such as advertising a new publication/product or a degree recruitment cycle.
Skyscraper adverts are sold in monthly intervals at a price of £250 per month (see the image). Specs: 160 (w) X 600 (h).
NEWSLETTER ADVERTS
Newsletter adverts are placed on our newsletter that is delivered to over 5000 recipients every Friday – an effective way to reach one of our most engaged audience sets.
Newsletter adverts are sold in quarterly slots (3 months) and are priced at £100 each per quarter (see the image). Each quarter contains 12 newsletters.
Specs: 250 (w) X 250 (h) static pixels. No animation.
---
Advertisers are welcome to update their graphics/links at any time during the period booked.