e-International Relations' edited collections offer insights into some of the most pressing issues in the world today. Each collection features a roster of expert contributors and is edited as a stand-alone volume. To download one of the collections, click on the relevant image (pdf).
e-IR's Edited Collections and Publications are registered with the following ISSN number: 2053-8626
Featured Collection: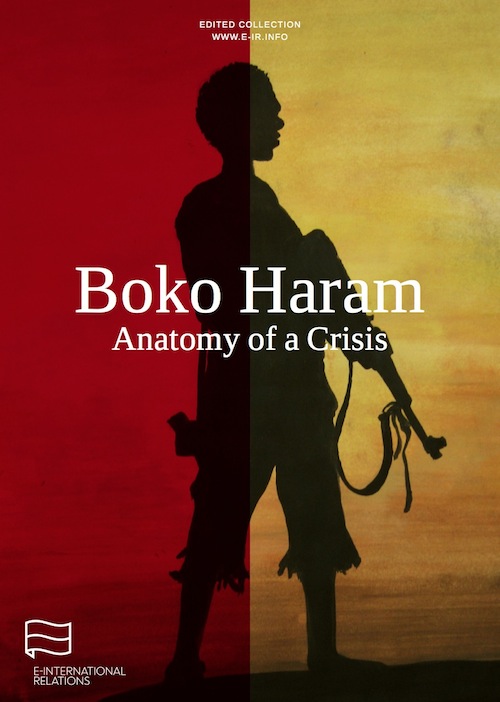 During recent years the phenomenon of Boko Haram has dominated policy debates among academics and policymakers interested in African and Nigerian politics. Yet, many issues about the sect remain unclear and contested.
This collection of articles on Boko Haram by selected experts is essential reading for those interested in Nigeria, and the broader issues of state building, terrorism, humanitarian emergencies, conflict resolution and intrastate violence.
The exact reasons triggering radicalization, the methods of recruitment, the profiles of its members, its affiliation with other regional terrorist powerhouses such as Al-Qaeda in the Islamic Maghreb, Ansar Dine in Mali or Al-Shabaab in Somalia, are all within the scope of discussion within the collection.
Click on the image to the left (pdf) to download the collection – or click here.

Contributing authors: Jideofor Adibe, Freedom C Onuoha, Hussein Solomon, Denise N. Baken, Abeeb Olufemi Salaam, Hakeem Onapajo, Osuma Oarhe, Caitlin Poling and Joseph Siegle.
Editor: Ioannis Mantzikos
Edited collection archive:
System, Society & the World:
Exploring the English School of International Relations

Since its reorganization in the early 1990s, the English School has emerged as a popular theoretical lens through which to examine global events. To demonstrate the advantages and value of the English School, this volume brings together some of its most important voices to highlight the multifaceted nature of the School's applications in IR.

In a departure from typical academic literature, this compendium was assembled with the specific goal of introducing readers to the School's key elements, but in a way that would be accessible in terms of both comprehension and also availability.

Contributing authors: Cornelia Navari, Richard Little, Andrew Linklater, Roger Epp, Adrian Gallagher, Cathinka Lerstad, Yannis Stivachtis, Jason Ralph, Matthew S. Weinert, Tom Keating, and Alexander Astrov.

Editor: Robert W. Murray
The study of piracy is still a relatively small field despite the growing importance of the problem. As such, knowledge about how different actors are involved in anti-piracy is not well advanced. Pirate activity is spreading and adapting in response to counter-piracy measures.

This growth and adaption makes the task of mapping counter-piracy actors that much more important.

This collection is designed to serve as a useful tool for students to gain an insight into this complex field. It is based on a series of essays written for Dr Christian Bueger by students on the 2012 International Relations MSc programme at Cardiff University.

The collection outlines the actions of those involved in anti-piracy missions and accounts for the weaknesses of current policies in an attempt to help forge a more robust understanding of counter-piracy actions.

Editor: Phillippa Lewis
Year One of a Nation:
South Sudan's Independence

The birth of South Sudan in July 2011 was met with jubilation by its citizens. Amidst the celebrations, there was a glimmering sense of hope that the sundering of North and South might act as a beginning from which to establish a prosperous nation.


This collection draws together e-IR's coverage of the independence of South Sudan, spanning initial reactions in July 2011 to reflections offered a year later.

Contributing authors:
Harry Verhoeven, Rebecca Tynsle, Hagar Taha, Daniel Solomon, John Prendergast, Amanda Hsiao, Jennifer Christian, Peter Run, Nicki Kindersley, John Mukum Mbaku, John Ashworth

Editor: Al McKay
The Responsibility to Protect:
Challenges & opportunities in light of the Libyan intervention

The international intervention in Libya has re-ignited dicussion over what kinds of policy measures should be used to prevent imminent mass atrocities, and particularly whether military intervention is an appropriate response.

This collection seeks to draw attention to some of the most interesting aspects of the heated debate that rages on the Responsibility to Protect.

Contributing authors:
Thomas G. Weiss, Ramesh Thakur, Mary Ellen O'Connell, Aidan Hehir, Alex J. Bellamy, David Chandler, Rodger Shanahan, Rachel Gerber, Abiodun Williams, Gareth Evans

Editor: Alex Stark
The Sacred and the Sovereign:
A compendium of pieces on religion and international relations

The study of religion has grown into an essential part of modern political studies. The global resurgence of religion in the political arena began in earnest in the late twentieth century and continues to grow.


This collection features seven articles which tackle the subject of religion in international politics with diverse approaches.

Contributing authors:
Jeffrey Haynes, Elizabeth Hurd, Shireen Hunter, Brendan Sweetman. J. Paul Martin, Tariq Modood, Barry A. Kosmin

Editor: Özgür Taşkaya
The Arab Spring of Discontent:
A Collection from e-International Relations

Not since the collapse of the Berlin wall and the demise of the Soviet Union has change swept so suddenly across a geographical region.

Written as events unfolded, this collection of articles offers insightful and diverse perspectives on the Arab uprising, and expands to consider related political unrest outside the predominantly Arab world, such as in Iran.

Contributing authors include:
Toby Jones, John Chalcraft, Ramesh Thakur, Jamsheed K. Choksy, Mary Ellen O'Connell, Simon Hawkins, Clive Jones and Francesco Cavatorta.

Editor: Al McKay
The Anatomy of a Crisis:
Perspectives on the 2009 Iranian Election

The articles in this collection were written and published on e-IR as events unfolded during the Iranian elections in June 2009.

Approaching the subject from diverse perspectives, they provide a concise introduction to the crisis for anyone interested in Iranian domestic politics and the importance of Iran within international relations.

Contributing authors include:
Jamsheed K. Choksy, Elham Gheytanchi, Bernd Kaussler, Reza Molavi and R.K. Ramazani.

Editor: Stephen McGlinchey